About Infinity Dress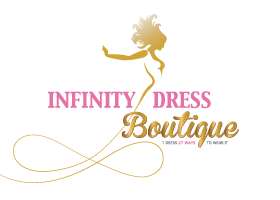 A dress that can be styled in 27 ways making it easy, convenient and a re-usable dress for your bridesmaids!
The Infinity wrap dress is the same as what is known as a convertible dress - a dress that can be converted to suit your style. With the variety of options / styles this dress can be styled in makes it an ideal choice for your bridesmaid's dresses. You, as the bride, can be sure your bridesmaids will feel happy with their look and comfortable regardless of their body shape and / or size.
Each custom made dress, put together by a qualified seamstress team making use of the best quality fabrics ensures your end product is a comfortable and quality one!
We have 4 different dress styles to choose from:
Summer Infinity Dress that can be worn in 100 different styles (suits every type of body shape) and flows above the knee.
Cocktail infinity Dress that flows below the knee and flows below the knee. This dress can be easily spiced up with the small addition of a diamanté brooch.
Evening Infinity Dress that is quite simply fashionable and elegant with it being a long length dress that flows below the ankles. Also available in a variety of different colours.
Plus Size Infinity Dress is the dress that gives extra flow from under the bust to the floor.
Tutorials are available to make styling your dresses easy and for added convenience, Infinity Dresses can be ordered online and delivered straight to your door with a fast and friendly courier service.
Wedding Dresses, Mother of the Bride Dresses, Flower Girls Dresses, Matching Men's Ties, Bow Ties and Pocket Squares are also available from Infinity Dress.
Where to find Infinity Dress
Infinity Dress Client Reviews
There are currently no reviews for Infinity Dress.
Have a comment regarding Infinity Dress? Submit a review using the form above.
---
SUBMIT REVIEW
Videos
Infinity Bridal Wear at the SA Wedding show 2015
Infinity Dress Cape Town Fashion Show
Infinity Winter Wrap Dress