About Infinity Dress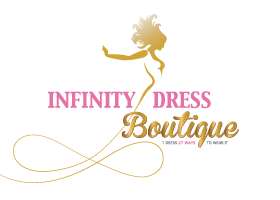 Reduce your stress of keeping bridesmaids all happy with their outfit by investing in the Infinity Dress for your bridesmaid's outfits. Why? Simple! The Infinity Dress can be worn in 27 different ways!
Infinity dresses come in 4 styles (Summer, Evening, Cocktail and Plus Size) and each dress is custom made by the team of seamstresses at Infinity Dress. Quality materials are used to create the beautiful dresses so satisfaction and quality are our important to us.
Style your bridesmaids in the same colours, but with different styles OR style them differently AND in different colours – you choose!
Infinity Dresses are available for purchase on the Infinity Dress website and for added convenience, we deliver to your door anywhere in South Africa. Tutorials are also available on the website and if you are looking for a dress for the Mother of the Bride, the Flower girl or even for matching Men's ties or bow ties, we do that too!
Quick facts about the Infinity Dress Styles
Summer: Suits every body shape, flows above the knee and can be worn in 100 different styles.
Evening: Elegant, fashionable and flows below the ankles.
Cocktail: Easily dressed up or down and flows below the knee.
Plus Size: Provides extra flow from below the bust down to the floor.
Where to find Infinity Dress
Infinity Dress Client Reviews
There are currently no reviews for Infinity Dress.
Have a comment regarding Infinity Dress? Submit a review using the form above.
---
SUBMIT REVIEW
Videos
Infinity Bridal Wear at the SA Wedding show 2015
Infinity Dress Cape Town Fashion Show
Infinity Winter Wrap Dress