About Precious Memories Productions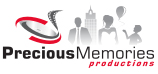 It's about being different. Seeing the world from a different perspective. Photographing from unlikely angles and composing for effect. Combine that with Photoshop and the resultant product becomes a work of art. We aim to please and amuse you. To capture your guests unawares and be completely unconventional.
Everyone speaks about passion and it certainly is an important facet and pre-requisite. We too are very passionate about our work and our clients, We offer various packages that we hope can meet everyone's budget. However, we are not chained to those packages and are keen to meet your own unique requirements. The most important being the choice of coffee book photo album that you wish to have. Bearing in mind that the printing will be done by a third party specialist company that provide a very diverse choice it is impossible to include every option on offer.
To make the shoot as comfortable as possible we have a female and male photographer on site at all times.
In our case, the client always gets more than the stated package. Never less and if you avail yourselves of both our photography and video services we'll include a completely free pre-wedding photo shoot. This helps us get to know one another before the big day.
Precious Memories Productions specialize in both photography and videography and will offer unbeatable value if both our services are used.

We have top of the range equipment capable of resolutions of up to 24 mega pixels if need be and are serious about our work.

Try us. We're different from the herd in everything we do. Yet we care. Really care about our client's unique needs and precious memories.

MEMORIES FORM THE FABRIC OF OUR LIVES
Where to find Precious Memories Productions