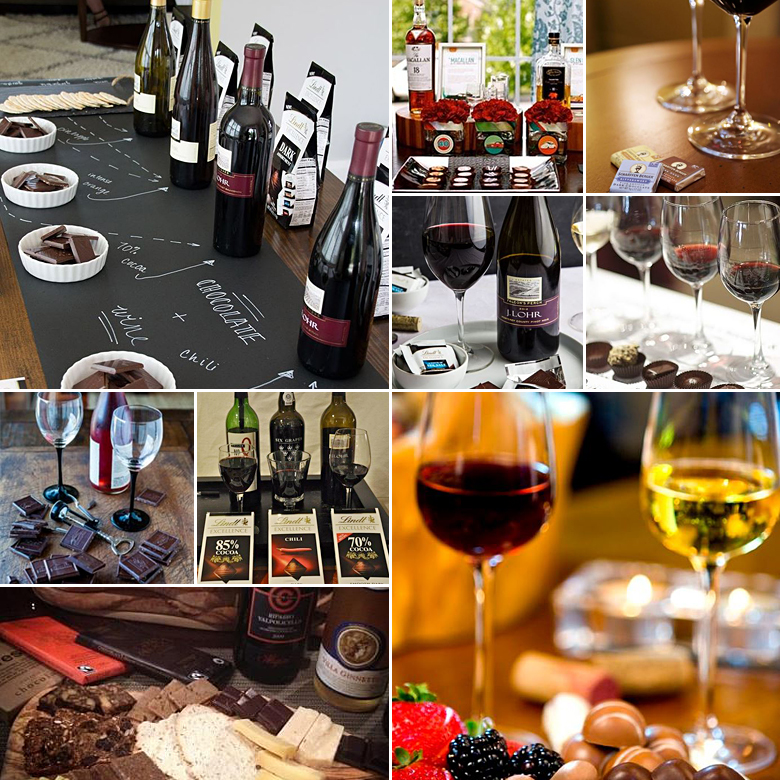 Wine and chocolate pairings are a chic yet fun and oh-so interactive dessert experience that your guests will love!
There are a variety of ways to present this dessert to your guests.
The sophisticated approach. Display each wine with the desired chocolate pairing on a table to one side of your venue where guests can stand and discuss the pairings.
The table-interaction approach. Place a bottle of each wine and a bowl of each chocolate on the various guest tables to allow guests to discuss the pairings at without leaving the comfort of their seats.
The individual approach. Serve each guest a tray with tiny bowls overflowing with every type of chocolate, and shot glasses filled with various wines that you have selected. Remember to personalise your labels and place it next to the wine and chocolate.
The fun approach. Present each type of chocolate in a shot glass form and serve the chosen wine in this "glass."
What's more:
You can hand out insightful charts to help your guests find the perfect matches.
Chocolates can be presented in blocks broken off slabs, individual chocolates or slivers on the trays.
Have a few bowls with fruit with which guests can cleanse their palates in between tastings.
Remember toalso serve water to your guests to help cleanse their palates between every pairing attempt.
Original images and their credits available on Pinterest