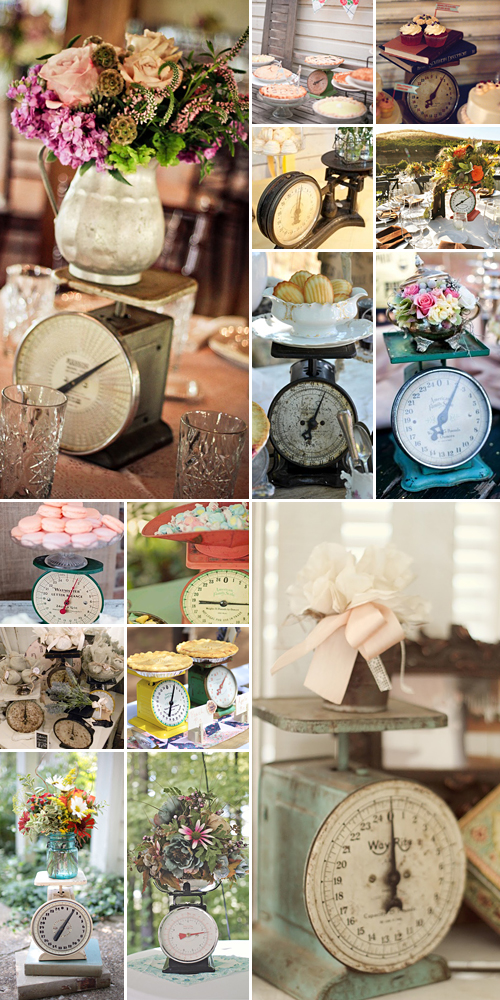 There's so much more than flour and sugar to be put and measured on a scale, or so every vintage bride will tell you! Scales are a lovely décor element and best complemented with other vintage pieces and home ware – think all things enamel, pastel, retro and all things homey, and you're on the right track.
Nowadays many home ware shops actually sell modern-day versions of old fashioned scales in a range of interesting and astonishing colours and designs. Hence, if the bride mother and bridesmaids are into baking, consider giving each lovely dame a scale as gift.
In terms of vintage scales, here are a couple of quick ideas ways to use a scale in a non-baking way:
Balance a flower bowl or vase on top and arrange freshly picked flowers inside, cascading over the edge and onto the table.
Place scales on the dessert table to display all the delectable goodies. Alternatively use a working scale for guests to weigh their food at the candy table – after all, taste makes waist!
Ask your photographer to snap a picture of your wedding rings on a scale or better yet, use the scale as alternative ring cushion.
A big vintage scale can make the perfect cake stand for a single-tier wedding cake or selection of wedding pies.
Place a scale on the guestbook table and have your guests place their cards and wishes inside the bowl on top.
If you can manage to get your hands on a vintage human weight scale, use it as a prop in the photo session to see fi hubby "measures up".
Original images and their credits available on Pinterest