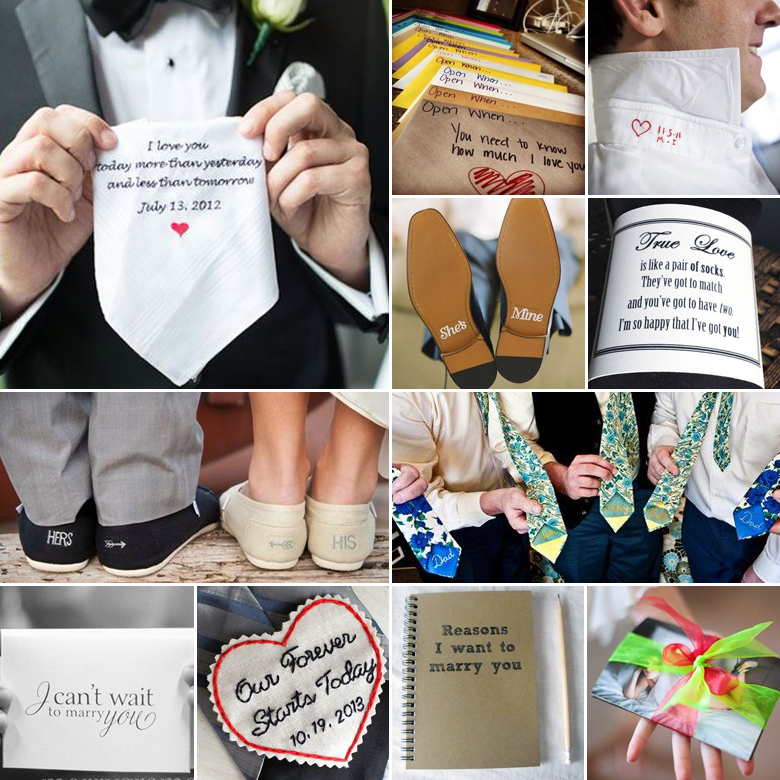 It's easy to get caught up in the guest favours, décor bits and gift shopping for the bridesmaids. But if there's one person you can't forget about, it's the groom! The groom is often overshadowed by the bride, and it's and therefore it's essential that you put some thought into making him feel extra special and valued on the big day.
We've got some ideas on the topic:
Assemble a little "groom survival kit" with all the essentials he might need to make it through the day.
Embroider a loving word or two onto the inside of his tie or use a fabric marker to write on his shirt (under the collar where only he knows about it).
Alternatively write a lovely message on the soles of his shoes.
Slip a love note into his shoe, jacket pocket or socks so he'll find it while getting dressed.
Make a long list of reasons you want to marry him and bind it in a little book.
If you're musical, write him a song – record it and load it onto his iPod. Alternatively a recorded voice note will also do the trick.
Set up a boudoir shoot in the months leading up to the big day and surprise him with your hot and steamy pictures on the wedding day.
Bake him his own surprise groom cake, featuring all the things he loves or what you love about him.
Original images and their credits available on Pinterest