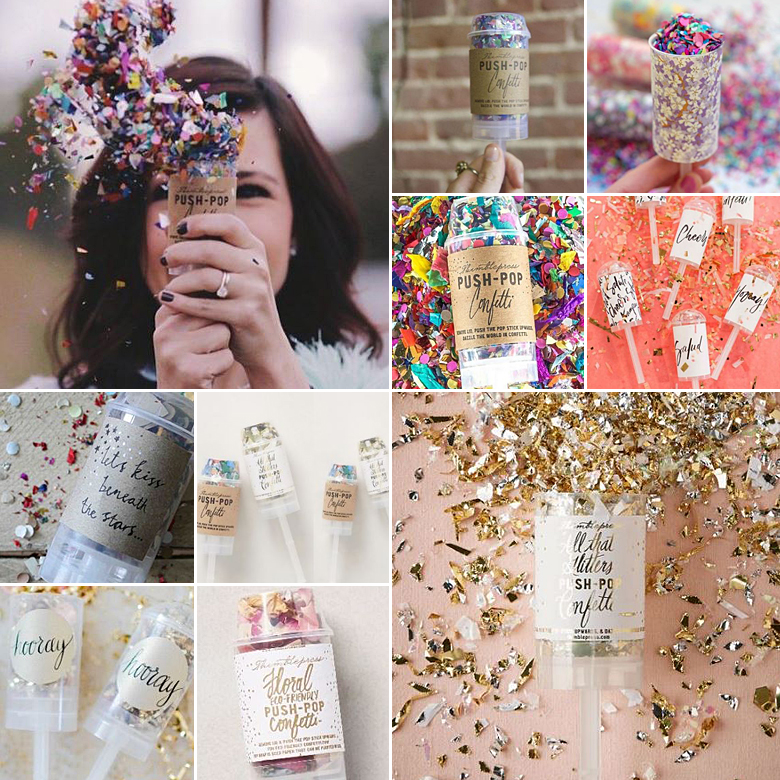 Cake pops have been a firm bridal favourite for a while now, but who said you should stop there? Push-pop cake pops are in fact the perfect solution to confetti blues, and the force with which the pop pushes out will create a beautiful scattering of confetti.
We especially love how push-pops now enable brides to use messy glitter and sequins as glitter on the day. This prevents your guests from having to dip their hands in a bowl full of glitter and be plagued by it for the rest of the night.
Before you can fill your pops, you need to decide what type of confetti you want for the wedding day. Over and above the aforementioned sparkly bits, the options are virtually endless. From the more organic oats and birdseeds to paper hearts and traditional confetti.
For something a little bit more showy, opt for sparky strips of streamers that will light up the sky. You can also label the pops with personal messages or words like "hooray" and "pop when we kiss". In fact, if you love the idea of confetti pops enough, why not have a second batch for later in the evening? You can never have enough!
Confetti Products Available Celebration.co.za
The requested RSS feed cannot be loaded at this time. This XML document is invalid, likely due to invalid characters. XML error: Undeclared entity error at line 22, column 147
Original images and their credits available on Pinterest