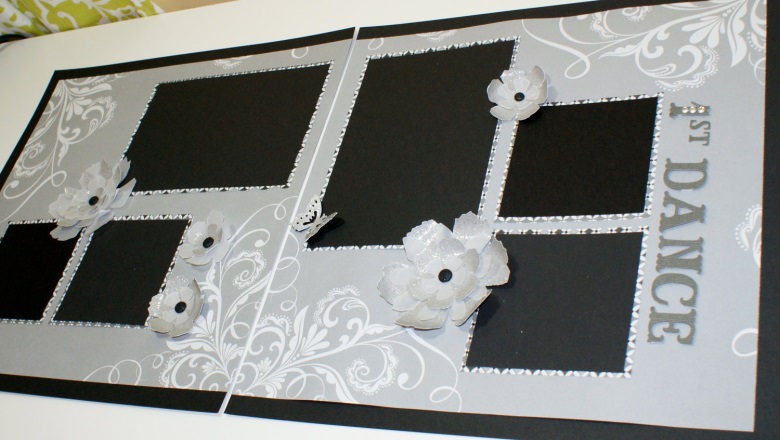 Scrapbooking recently went through a phase that saw almost everybody trying their hand at this art form. Part of the reason for its popularity is that scrapbooking allows you to arrange your photographs while adding major elements of yourself as well as explanations of the pictures in artistic freedom. This creates a whole new dimension when it comes to arranging and storing printed photographs. Instead of pages and pages of uniform photographs under plastic sheaths, a single photograph can be decorated, explained and expressed in so many different ways, capturing the very essence of the day.
This capability makes scrapbooking the ideal way to present your wedding photographs. It can be done in a fun, elegant or classic way while introducing elements that will engage the viewer and add more dimension to your wedding album. The wedding album also carries more of a "storybook" look and feel, which allows the bridal couple to tell the story of their love and their relationship as it developed to the stage at which they got married. So, the beginning of the scrapbook may contain those first shots that new dating couples take of themselves, usually very romantic and full of smiles. These should be followed by the engagement photographs, then wedding preparation pictures and, finally, the wedding. Some couples may decide to add the honeymoon in as part of their love story.
The added benefit comes in the ability to include messages, words and images on and around the photos that depict the experiences you shared at that time and the love you have for one another. While these should remain tasteful, do not hold back from expressing such feelings by including notes such as "the love of my life" or "eating oysters with my gorgeous man". This will remind you of the sentiments you felt for your husband at the time of your marriage and will, no doubt, spark some of those original butterflies into action.
It is also a good idea to keep a journal of the few weeks before your wedding to document your feelings of excitement and joy. Some of the pages from this journal can be included if you feel that what you have written is not too personal or explicit. This adds the ultimate personal touch to your album.
Neat handwritten notes are also excellent ways of making your scrapbook more personal. In addition, letters, notes, faxes and emails from friends and family that could not make it to the wedding or who dropped you a line to ask how the planning was going are a great reminder of those that supported you during this time.
To keep your photographs in good condition, an adhesive that is free from acid will ensure that they are not damaged.
The theme of your scrapbook should reflect the colours and décor of your wedding day. Of course, your scrapbook allows more flexibility and a lot more detail in terms of decorating the pages, so the theme of your day should merely act as a guide. If the look and feel of your wedding day was based on "fairytale romance", the scrapbook can include elements of magical love, stars, sparkles and so on, while these may not have been appropriate to include in the official wedding decorations.
To get the perfect shot, edit digital photographs before printing them onto photographic paper. Eliminate red eyes, crop excess background, enhance the colour, or create some special black and white shots. Do not print digital shots onto normal paper as this will cheapen the effect and it will not last as long.
To complete your wedding scrapbook, you will need a large scrapbook or a post-bound book, a fixed blade, photographs, cards, letters, mementoes (napkins, place cards, etc…), a sharp pair of scissors, acid-free paper, acid-free glue, a journal pen, an acid-free permanent marker, coloured pens and the embellishments that will go around each photo.
Photo Credit: www.etsy.com