Nicolette Weddings Cat Food Drive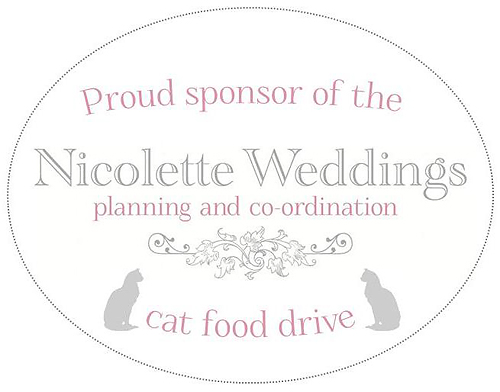 Can you believe we're already half way through November? It's shocking how time flies! Approaching the middle of the month also means that the Nicolette Weddings team is half way through their month-long, wedding-industry-wide cat food drive, which means that you have only two weeks left to donate cat food and feed our furry friends at The Emma Animal Rescue Society (Tears).
Nicolette Weddings has also encouraged participation throughout the wedding industry by offering brides and suppliers who donate this specially designed sponsors badge to show off on their websites and Facebook pages. Suppliers that donate will also be featured on the Nicolette Weddings Facebook page for the day.
Why cat food? "Because I have met very few brides who aren't as cat crazy as I am and I'd love to utilise the amount of brides and suppliers I deal with on a daily basis for something good" says owner and wedding planner, Nicci Le Cok.
For more information on the drive, or on how to participate and claim your badge, read the Nicolette Weddings blog here or contact them directly at [email protected].