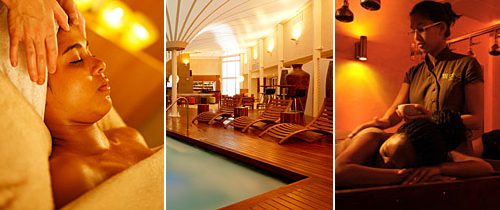 An exciting new spa and wellness brand has been launched at the iconic Radisson Blu Hotel on the Atlantic Ocean in Cape Town's Waterfront: Quantumspa™
This is the brainchild of wellness guru and long time promoter of "healthy habits" in South Africa, Rob Cowling who, as a member of the international Global Spa Summit, and drawing on his 25 years of experience in the industry, has responded to the growing need of the consumer to find integrated and authentic spa and wellness experiences.
QUANTUMSPA™ delivers a superior service, including massage, body and skincare therapies, spa and wellness packages and beauty treatments. Our world class facilities include 10 themed treatment rooms, heated indoor Vitality pool with relaxation deck, fully equipped Fitness Centre (Technogym) overlooking the Atlantic Ocean, and change rooms with beech saunas. Unique to QUANTUMSPA™ is AQUAJOURNEY™, an out-of-this-world Vichy-Rasul-Kneipp-Sauna-Aroma Mist sequential experience. Take the journey alond or with a partner and be guided through a renewing treatment leaving mind and body feeling de-stressed and re-energized. We strongly recommend booking this treatment prior to any of our other treatments. This has to be on everyone's bucket list!
Our signature treatment is called QUANTUM-ENCOUNTER™.  Your intuition guides you to select a coloured stone, indicating to your therapist which oils to use in your treatment.  Heated volcanic stones are placed on specific energy points, incorporated with therapeutic massage.  This combination results in relieving pain and tension by improving circulation and unblocking stagnated energy… a sense of reconnecting with mind and body, creating the sense of wellbeing.
All our treatments are performed using both South African manufactured and internationally manufactured products.  These products are also available to purchase for continued  benefit and enjoyment in the comfort of your home.
Visit our interactive website, www.quantumspa.co.za, to book a treatment or find out more about our Rewards Programme, Fitness Membership and Corporate Wellness Programmes.
The two key drivers in the development of the QUANTUMSPA™ brand were the recognition of the importance of the use of "energy" in preventive and healing processes in the spa environment, and the growing acceptance of Energy Medicine in healthcare worldwide. This new focus has lead to the introduction of the country's first Bio-Energy Therapy Centre, which is a joint initiative between the South African company and HealthTech Sciences of Norway. The Bio-Energy Centre goes beyond promoting the traditional healthy lifestyle by identifying imbalances in the body at an energetic or sub-cellular level and bringing about rectification by stimulating the body's self-regulatory mechanisms in a safe and natural environment.
The Spa is open every day of the year from 06h00 to 22h00 and treatments are available from 08h00 to 20h00.