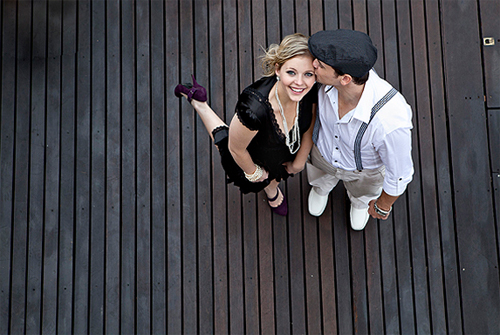 What could possibly be more romantic than being on the Titanic when it's NOT sinking? Kyle and Michelle's engagement shoot, shot by the talented Stuart Dods, is gorgeous in its beauty, simplicity and charm.
Shot on a ship and along the railway, these photographs just smack of classic, lifelong love. In fact, one imagines that they were taken in the 1920's and tell the story of a couple who, today, recline in their sunroom filling out crosswords and knitting booties for the grandchildren.
Kyle looks the part in its suspenders and flat cap, while Michelle is ultimately elegant and sweet in her pearls and purple fascinator. But, the real magic is captured in their huge smiles and the way that these two look at one another dreamily. The classic romance has also been captured by the lighting and post-production techniques that Stuart Dods has used in his photography style.
View the gallery below for more gorgeous pictures…
[flgallery id=130 /]
Contact Stuart Dods Photography:

Visit our page on Celebration: Stuart Dods Photography