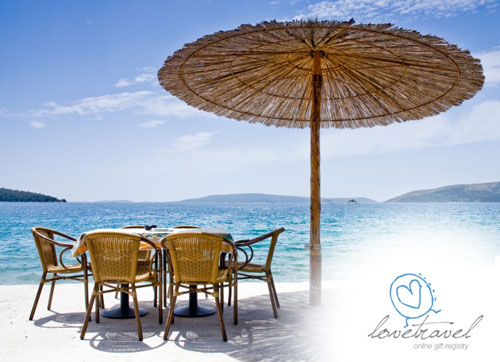 Contact Details:

Page: LoveTravel
Email: info@lovetravel.co.za
LoveTravel is the modern and convenient online gift registry choice for honeymoons, birthdays, anniversaries and any other special occasions. LoveTravel is also the perfect gift choice for those who have no need for extra blenders, toasters or linen but instead dream of a honeymoon or holiday in a far-way paradise.
Use one of our sample registries to create your ultimate wishlist for your honeymoon or holiday of a lifetime. This gives you the opportunity to indulge in your every desire from flight upgrades, sunset cocktails, exquisite dinners, relaxing massages and exciting shopping trips – the options are endless.
Once you have created your online registry your guests can access it by searching for it by name and surname or event date. They can browse the items or activities you have listed and purchase one, a portion of one or as many as they wish and they can leave a personal message for you. They can pay for the items they have chosen by credit card or EFT.
We are not a travel agency
You can book your honeymoon or holiday however, whenever and with whomever you please. It is important to note that LoveTravel works as a 'money back' registry only the honeymoon or holiday must be booked and paid for via a travel agency.
Your registry has no limits
You can include as many gift items as you like – be creative!
Customised registry design
You can choose from one of our beautifully themed designs or you can create your own page by uploading photos and information about your holiday in as many categories as you like.
Convenient for you and your guests
LoveTravel online gift registry is easy to use and navigate for both you and your guests and we are always happy to offer personal and dedicated support.
You know exactly what you get
You will be notified each time an item is purchased as well as the value of the item and who it is from.
Free personalised gift cards
We offer you personalised printed gift cards that you can add to your event invitations so that your guests have all the information they need to access your online gift registry.
You are contributing towards saving the planet
Your guests can leave a personal message for you which means less cards and wrapping paper and a happier planet!