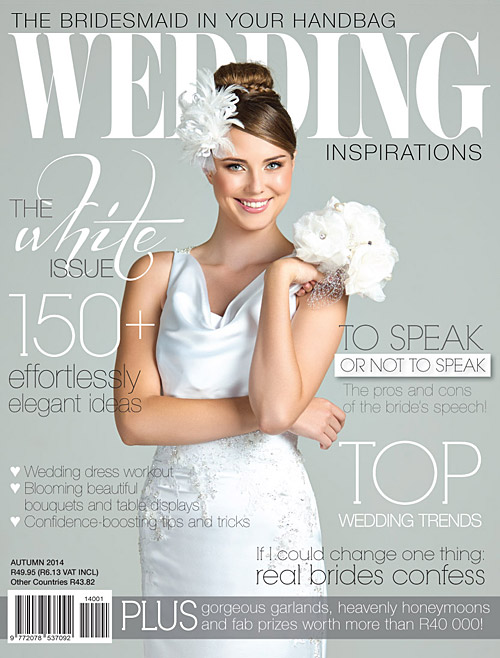 If you think all-white weddings are boring and traditional, wait until you see the Autumn issue of Wedding Inspirations magazine! On sale from today, this gorgeous glossy celebrates white's return to favour with page after page of pale perfection in everything from bridal fashion and beauty to cakes, flowers and party decor / OR: with page after page of pale wedding perfection (think fashion, beauty, cakes, flowers and party decor).
We adore the fashion features – a stunning selection of white wedding dresses and sophisticated lingerie – and can't wait to try the big day beauty ideas (who knew white eyeshadow and white lipstick could look so cool and classy?).
The styled reception themes are a definite highlight too. Expect to fall in love with a striking all-white celebration that mixes old and new influences, and a lush party look that combines white and Radiant Orchid, Pantone's colour of the year (the latter theme boasts some of the most exquisite flower arrangements we've ever seen!).
Colour inspiration aside, the March/Autumn edition is crammed full of handy information too, including the latest wedding trends (think themes, table décor, food, drink…) as well as blunders real-life brides want you to avoid. There are confidence-boosting tips and tricks, workout moves for all styles of wedding dress, fresh bunting ideas, advice for brides' speeches and truly spectacular honeymoon destinations. All in all, it's a fabulous read!
The Autumn issue, priced at R49.95, is available at Pick 'n Pay stores nationwide. You'll also find copies at CNA, Exclusive Books, PNA and Dis-Chem, as well as selected SPAR supermarkets and independent retailers. Alternatively subscribe and never miss an issue.
Details are at weddinginspirations.co.za.