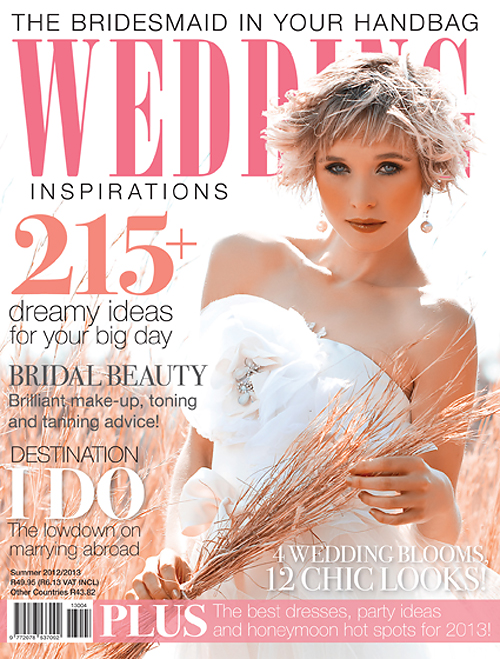 Summer is here at last (so is party season!) and to celebrate, the new issue of Wedding Inspirations is filled with bright, brilliant ideas for stylish brides and grooms.
The main fashion feature sets the tone for a stunning issue: shot on location in the African bush, it's filled with dreamy looks for both classic and contemporary brides. There's an elegant lingerie feature too (with shapewear ideas for body-conscious brides) and the latest catwalk looks for grooms.
The visual inspiration continues with beautiful bridal make-up and three fabulous party themes. For relaxed sophistication, check out the French-styled celebration with accents of toile and lace. Alternatively, take your cue from the DIY options: a relaxed country gathering in sunny yellow and purple; and a nostalgic affair with cute, candy-coloured patterns and popcorn. You'll also find delectable dessert tables (a key trend for 2013) and four popular wedding blooms styled in fresh, fun ways that are easy to replicate.
As always, the magazine offers smart, practical advice and information you simply can't be without. Must-reads in this issue include the groom's guide with tips and hints for the man of the moment and a comprehensive article on destination weddings (essential if you're considering marrying abroad). Look out also for a 2013 wedding trends piece with predictions from top industry experts and a honeymoon hotlist featuring 20 of the most exotic, exciting getaway options.
Get your hands on a copy of the summer issue, on sale now for R49.95 at stores such as CNA, Exclusive Books, PNA and Dis-Chem, as well as selected SPAR supermarkets and independent retailers. Alternatively subscribe and never miss an issue. Details are at weddinginspirations.co.za.