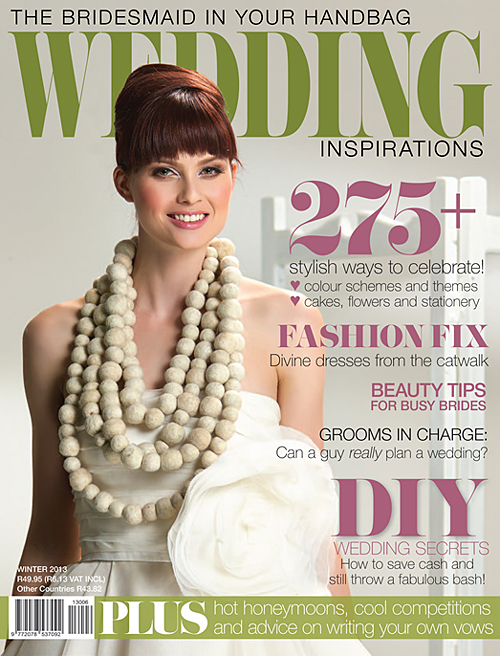 Winter is the perfect time to plan your wedding: simply curl up on the couch and get cosy with Wedding Inspirations, the ideal magazine to guide you! Released quarterly to coincide with the seasons, this stylish glossy is crammed full of fresh ideas, information and inspiration.
The June/Winter issue – on sale from today – is definitely one of our favourites so far. Look out for the main bridal fashion feature – a stunning, botanical-inspired dress showcase with beautiful backdrops for your big day. You'll also find wedding-worthy looks from the red carpet (who can resist some A-list inspiration?) and a catwalk report covering new bridal fashion trends.
On the party side, expect four exciting, original reception themes, boutique wedding cakes and unique foliage displays (that's right, not a fresh bloom in sight!). We love the elegant emerald green wedding idea, inspired by Pantone's colour of the year, and are desperate to recreate the bold DIY theme which combines African prints and monochromatic musings. Even the fresh farm-style celebration and rustic-grunge look have us hooked!
As always, there is plenty of practical advice in the magazine. This time round, read about grooms' growing involvement in the actual wedding planning process, as well as tips on how to write your own vows. There is also honest advice on the pros and cons of going down the DIY wedding route.
Other highlights include the main beauty feature (five irresistible bridal hair and make-up looks); and the honeymoon travel article, which focuses on hot weather destinations for each month of the year.
Pick up your copy of the winter issue, on sale for R49.95, at stores such as CNA, Exclusive Books, PNA and Dis-Chem. Wedding Inspirations is now also available in Pick 'n Pay and selected SPAR supermarkets. Alternatively subscribe and never miss an issue. Details are at weddinginspirations.co.za.