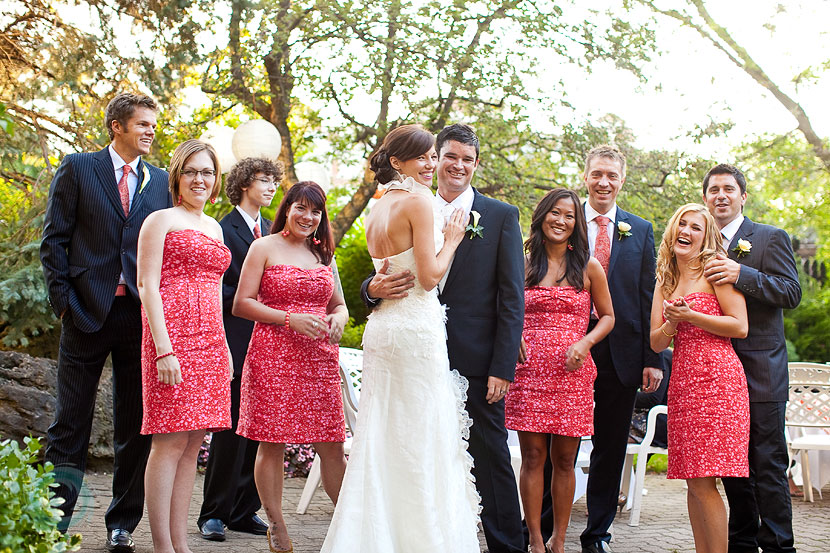 A couple may choose to have an informal wedding for cost-cutting reasons, or because it defines them and their relationship. Some brides and grooms just do not want an elaborate event with white dresses, matching suits and multi-tiered cakes. If this is the case, there are several tasteful and romantic options that are both budget-friendly and informal, while not negotiating on taste and romance.
Invitations – the entire tone of the wedding is set with the invitations. So, give guests that informal feel by emailing tastefully designed e-cards or handwriting them on pretty or stylish paper with a personal message to each guest or couple. While these are also cheaper, it is important that your wedding not be given the image of a slap-dash affair (no Photostatting of a hand-scribbled note on lined paper!).
Music – DJ's and bands are very expensive, and definitely add a far more opulent feel to your wedding day. So, if you prefer a relaxed, casual feel, hook a laptop with a fun playlist up to some good speakers and play your favourite tunes from there. Have a good friend or family member control the music, ensuring that it is not repeating one song or playing something inappropriate.
Theme – by giving your day a theme (such as "love", "romance" or "fairytale endings"), guests are able to dress accordingly and add to the theme in their own contributions without you having to provide extensive décor or furnishings.
Flowers – hand-picked flowers or bunches of wild Heather can give your wedding a nostalgic Spring-day feeling. Alternatively, use only single stems (rather than bouquets), or replace your flowers with quills, feathers or even helium balloons for a totally different touch.
Attire – an informal wedding requires that the bridal party be dressed in tasteful, yet comfortable attire. The bride would not tell her guests to dress casually and then wear a very expensive wedding gown, as this would make them feel inadequate and would not fit in with the general atmosphere. She can wear a pretty dress that is both elegant and budget-friendly (or even an elegant pants-suit), and the groom and groomsmen can feel comfortable in chinos, open shirts, golf shirts or even a pair of stylish shorts.
At a home – using a friend or family member's home or garden can be stylish, comfortable and memorable. Minimal decorations are required, particularly in a well-maintained garden. Guests can be asked to bring a plate of eats (be specific so that there is a nice range of food).
Champagne Breakfast / Brunch – keep the ambiance light and fun with a delicious spread of tasty breakfast dishes or healthy sandwiches and salads. This works especially well for weddings at which children are welcome and allows the bride and groom to enjoy an early reception (and, therefore, an early start to their honeymoon!). It also means that the guests do not expect open bars, music and dancing as much as they would for an evening affair.
Beach – having a stylish barbecue and sundowners on the beach is ultimately romantic and is great for young and old alike. It allows the bridal couple and guests to sit on the dunes, walk around barefoot, or even splash around in the water.
Cocktail Party – for the couple wanting that bit of "szhoosh" without the overly elaborate ambiance of a formal wedding, a cocktail party is a perfect compromise. Guests and the couple get to dress up, enjoy tasty finger snacks, colourful cocktails and a dance, while still milling around and chatting to one another, as opposed to sitting in their designated seat and being served Chicken-a-la-King and rice.
Picnic – make use of local parks, reserves or gardens for an extra-special picnic. Guests can make up their own picnic baskets, or these can be provided. Children can play, couples can laze in the sunshine and the bridal pair can join friends and family on their quilts for a relaxed glass of champagne.
Photo Credit: www.theweddingspecialists.net