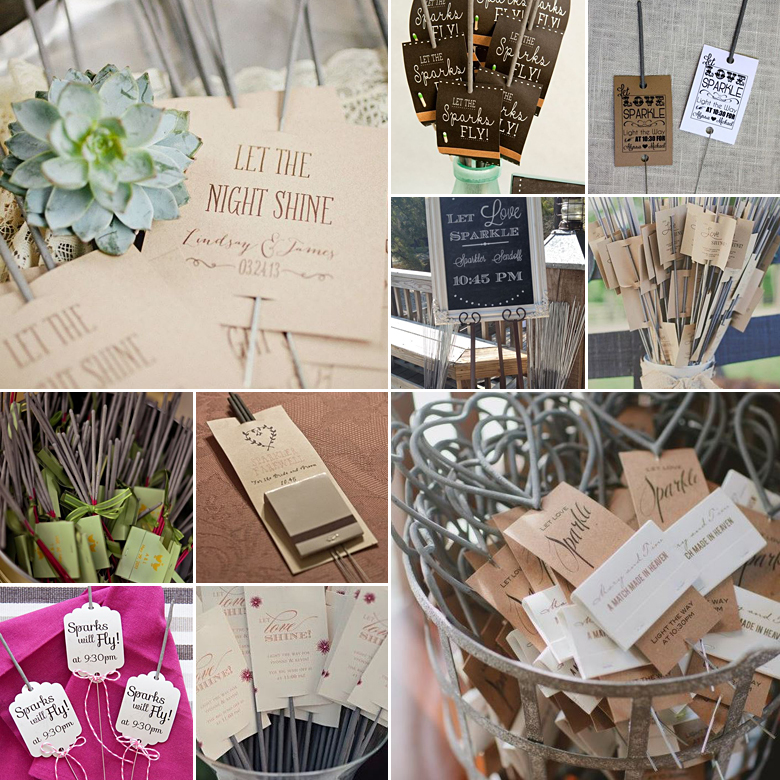 Sparklers have an amazing effect especially at evening weddings, but when given to guests they might seem a bit dull. A few tips to liven up the exchange can include some of the following ideas:
Cut two slits in a thank you note and put the sparklers through the slits. You can add a small box of matches on the note for the guests to light the sparklers with later in the evening
Tie a ribbon around 2-3 sparklers and put them in a bowl or small bucket on each table.
Place fruit pieces or perhaps strawberries on each guest's plate with 2 sparklers punched through it.
Arrange all the sparklers in big foam-a-lite balls with oil torches at the venue where the sparklers will be lit.
You can even have shaped sparklers to fit with you theme.
If you have an evening wedding and you want the sparklers to be used instead of the traditional confetti, place the sparklers either on each seat or tie it around the back of the chair with a theme appropriate piece of string or ribbon. Just remember to add instructions. After the wedding, have 2-6 torch bearers waiting for the guests outside where the sparklers can be lit.
Just remember:
These sparklers could easily be lost during the reception so have a few extras on hand when they are lit.
Ensure that your guests, especially children, are informed not to light them prior to the specified time.
Shop Sparklers, Tags and More
The requested RSS feed cannot be loaded at this time. This XML document is invalid, likely due to invalid characters. XML error: Undeclared entity error at line 22, column 147
Original images and their credits available on Pinterest