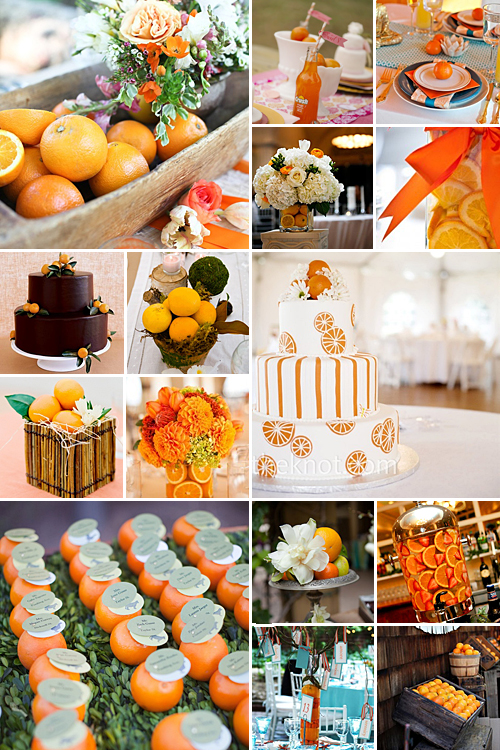 In many Eastern cultures, the orange is given as a gift or offering to bestow good fortune upon the recipient. After her wedding for instance, the bride is given two fresh oranges by her new in-laws which she then has to peel and share with her husband on their wedding night.
In terms of décor and delicacies, oranges are appropriate for a number of themes and wedding styles – from rustic farm style weddings to the more fruity and colourful occasions. However do bear in mind that in South Africa, oranges are usually in season during winter time – any other time of year, and you'll be paying through your neck. Let's look at some juicy inspiration:
Thread a number of oranges onto a long thick string to make your own fruity bunting – ideal for decorating the dessert table or rafters.
Serve freshly squeezed orange juice or orangey cocktails as welcome drinks –not just refreshing but pretty to look at as well!
Incorporate a printed orange slice into your stationery designs to add a dash of zest to it. Have a peek around stationery shops and see if you can't find a stamp with an orange slice on it – the perfect way to decorate your own stationery and even stamp the napkins!
Request an orange flavoured wedding cake, like orange drizzle or dark chocolate and orange, and have it decorated with fresh oranges and leaves.
Scatter oranges all along the sides of the wedding aisle – arrange them in a natural fashion so that they appear as if they've fallen off a nearby tree.
Use an orange scented room spray to infuse the venue with the juicy winter fragrance.
Add a couple of oranges to the table bouquets, either by propping it up onto a skewer stick or creating flat arrangements.
Make your very own scented orange votive candle holders! Simply cut a hole in the top of the orange, dig out the contents as best you can and dry them in an oven at 200˚C. Place a tea light candle inside and voila!
These same hollowed oranges can be used in a number of ways, especially on the food tables. Use them as serving bowls for fruit sorbets, mousse or fruity jellies.
For more Orange Wedding Ideas, the original photos above and their credits, make sure to check out our Orange Weddings Pinterest Board!