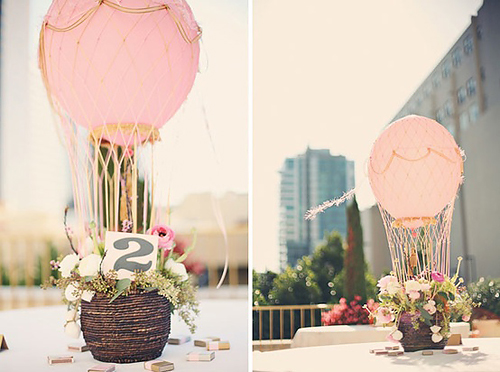 There's something so magical and enchanting about a hot air balloon, one can almost describe it as the closest thing we have to magic – just like fairy lights! The hot air balloon theme is very much on the same level as a carnival theme, and you'll find that many of the same carnival ideas and colour schemes can be adapted to work for this theme as well. A soft, dusty almost vintage colour palette for instance is simply perfect and truly captures the olden day charm that's associated with the ever so festive hot air balloon.
The first option is of course renting a real life hot air balloon and flying off into the sunset with your new soul mate, even if just for the photo session. If you have the budget for it you can also treat your guests to a little trip around the area or reward the catchee of the bouquet with voucher for a balloon ride after the wedding.
If budget doesn't allow for the real thing however, there are plenty of alternative ways to recreate the magic and splendour of this enchanting element. Hang glass jars from the ceiling and use them as floating candle holders. Laser cut paper hot air balloons are the perfect way to brighten up the wedding venue – hang them off the walls, the ceiling and even the chandeliers.
An excellent way of truly recreating the feeling of drifting along in a real life hot air balloon, is by lowering the ceiling with coloured drapes strung from the middle of the venue to the walls. And if you really want to go all the way, consider hanging sandbags on the walls and covering the tables with Hessian to create the illusion of a balloon basket.
Creative types can make their very own hot air balloons by attaching a little basket or tin can to a Chinese lanterns or helium balloons using cord or string. Fill the baskets with flowers and hang your miniature hot air balloons above the tables, or suspend a couple over the dessert table carrying sweet treats and accompaniments. Bunting is also a fantastic complementary element to this theme, especially when it's made to be of a matching dusty colour.
While balloons are the focus of the day, there are plenty of other related elements that you can use make use of and draw inspiration from: Birds (which are high on the trend scale at the moment), clouds, vintage aeroplanes (perhaps the groom's addition to the day) and treetops.
And finally ・ Pièce de résistance ・ when midnight falls light up a Chinese lantern and send it off into the starry night sky to symbolise the start of your new life together.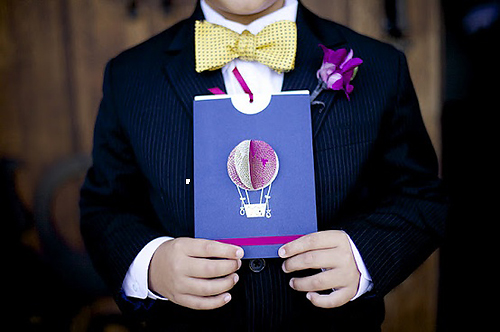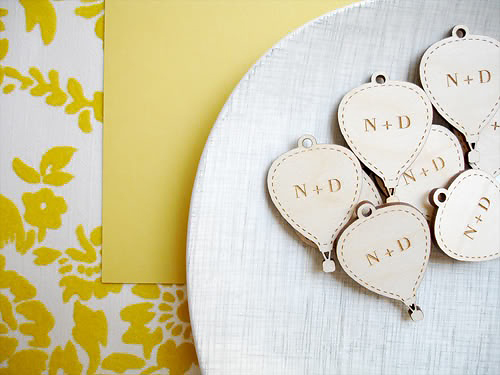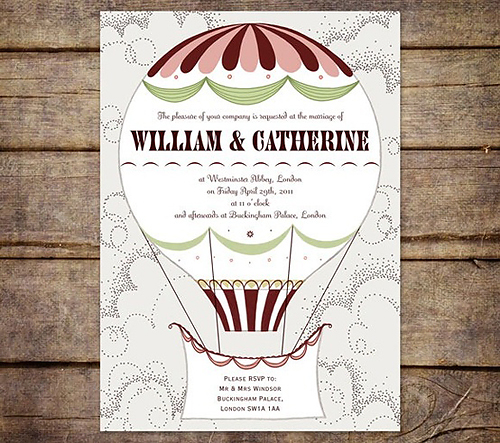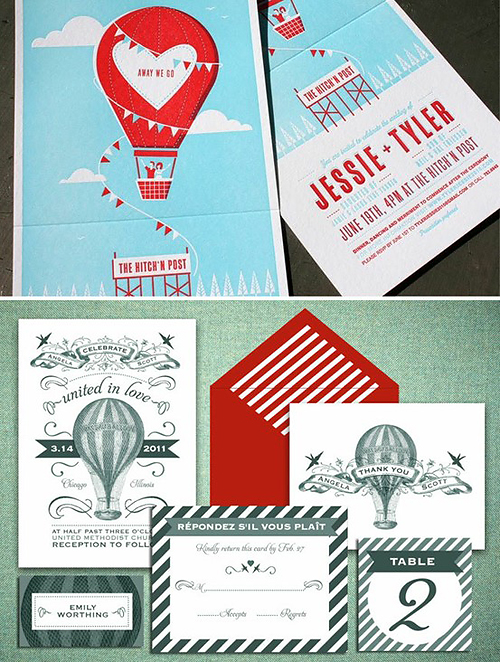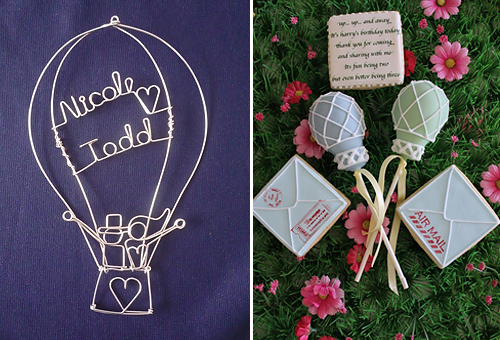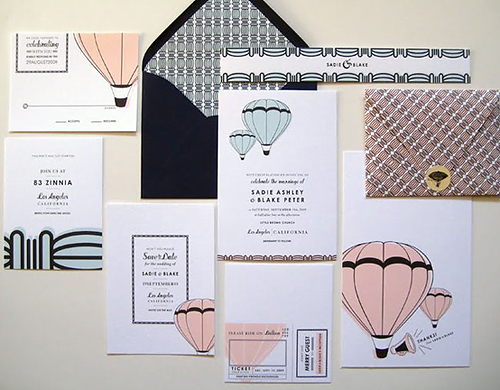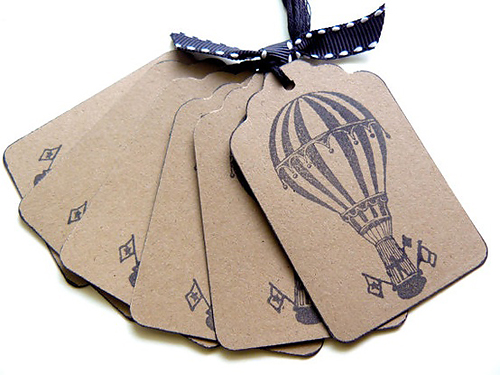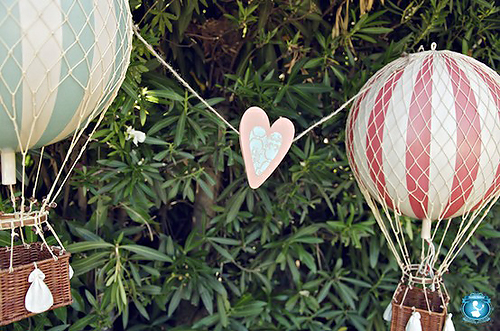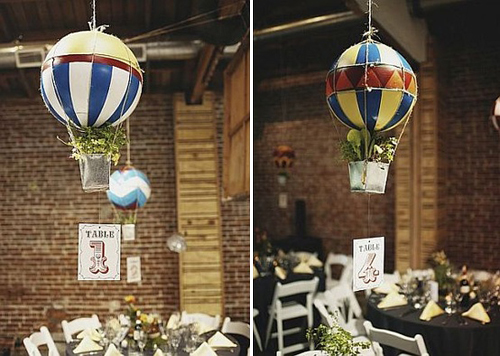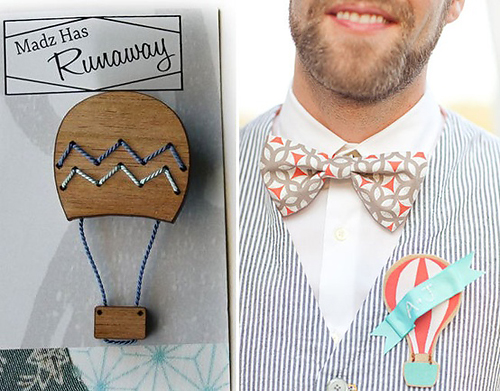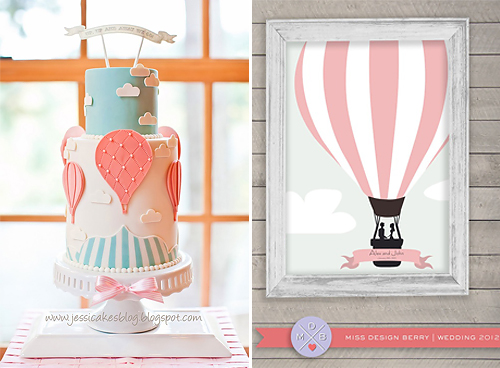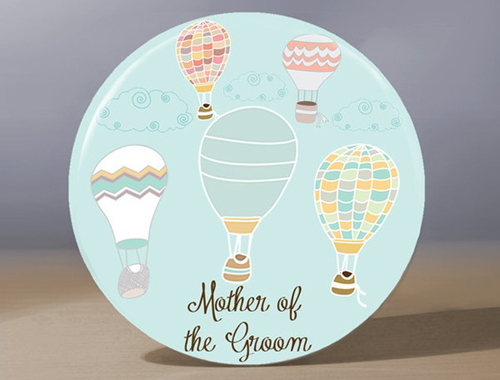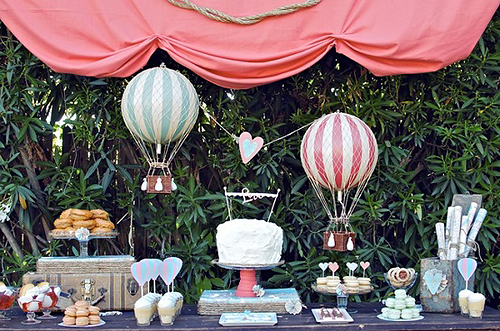 For more ideas on a Hot Air Balloon wedding theme or to check out the original photos displayed above and their credits, make sure to check out our Hot Air Balloon Theme Pinterest Board!