About BM Attorneys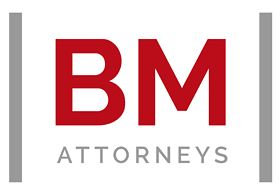 Based in Cape Town, we are an agile law firm able to deliver customised legal services to suit your needs.
Our wealth of experience, both individually and working together as a team will ensure swift, result-driven service, tailored to your requirements.
Perhaps the most important part of planning your wedding is to arrange the drafting, signing and execution of an antenuptial contract. Contact our firm for a free consultation to discuss the different possibilities. We look forward to assisting you with your antenuptial contract and other legal related matters.
Where to find BM Attorneys
BM Attorneys Client Reviews
Submit a Review
Robyn

Floris at BM Attorneys was excellent at assisting us through the ante-nuptial contract. He clearly explained our options, assisted with our wills and was a pleasure to deal with. Everyone was efficient, quick and had great communication that made the process a pleasure.
---
SUBMIT REVIEW