About Nordien Law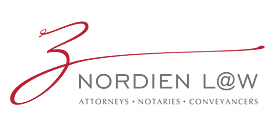 Nordien Law is a modern boutique law practice that understands our clients' needs and objectives. We are committed to expeditious service delivery without compromise to quality and we offer personalised service through cost effective legal solutions.

An antenuptial contract or pre-civil union contract governs what will happen to your assets and liabilities when your marriage is dissolved. Should you not execute a contract prior to your marriage, you will be deemed to be married in community of property.

It is important to set aside some time during your exciting wedding arrangements to consider the legal implications of your marriage and the importance of a marriage contract. With more than 12 years of experience, marriage contracts fall within one of our specialised fields of practice and we would love to assist you.
Where to find Nordien Law