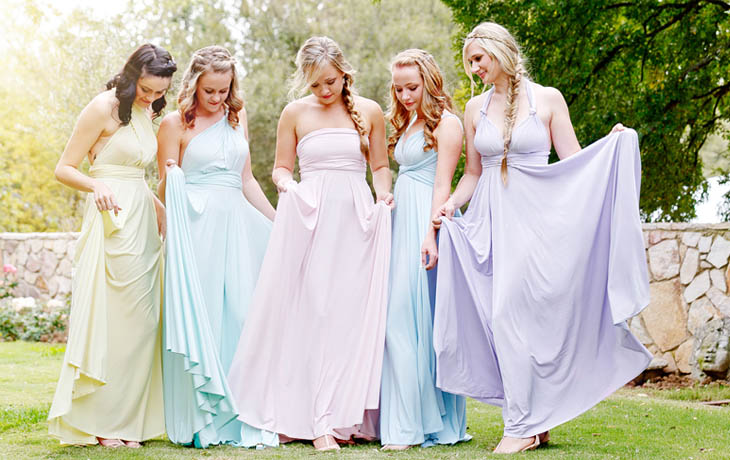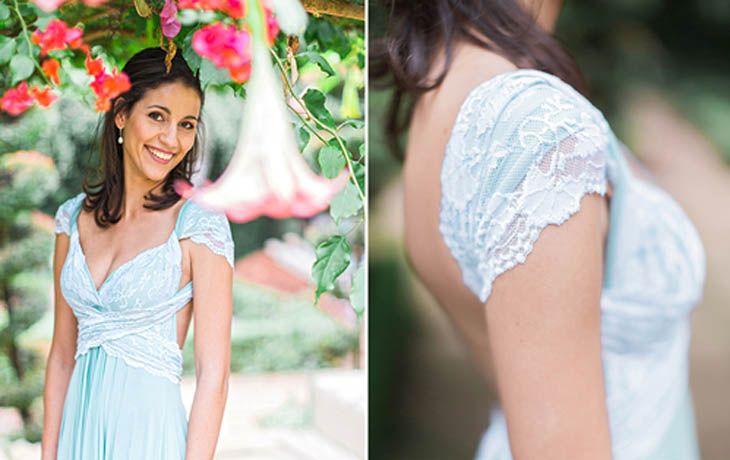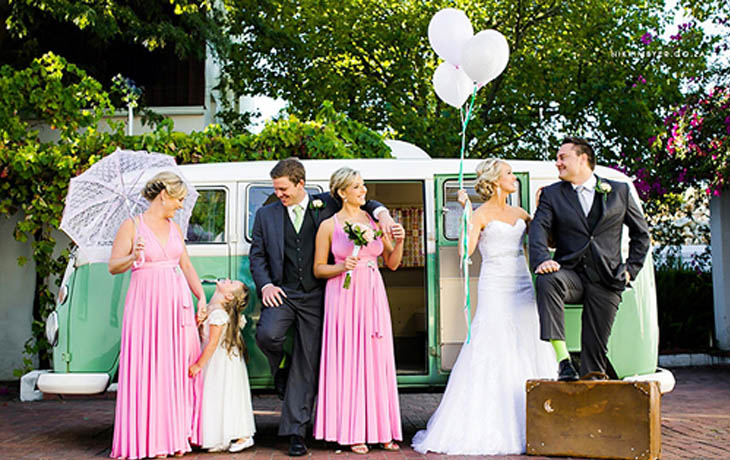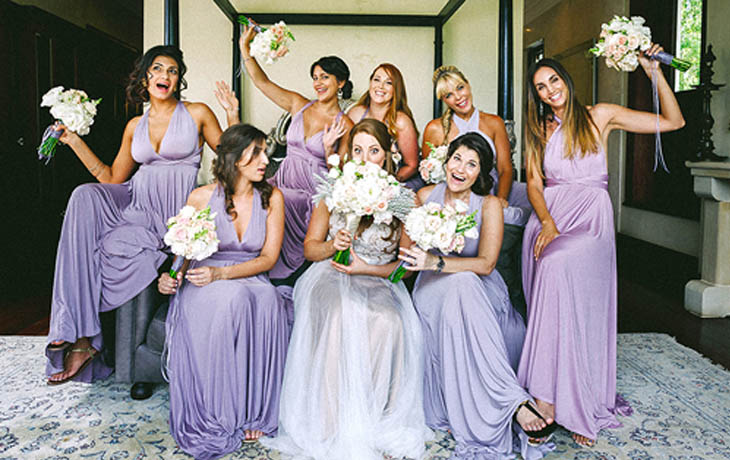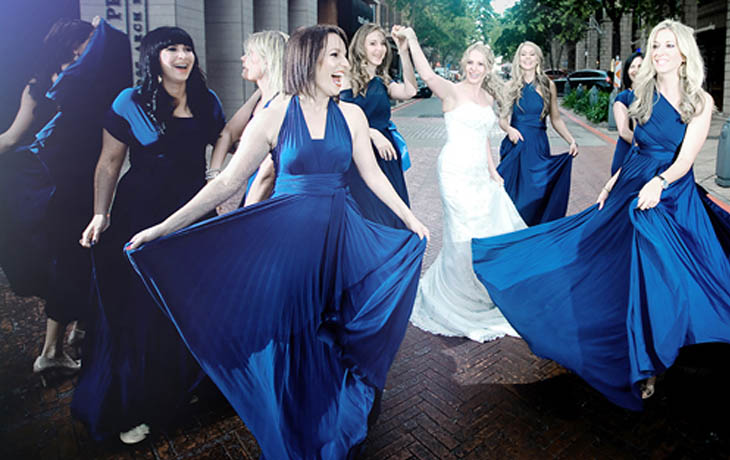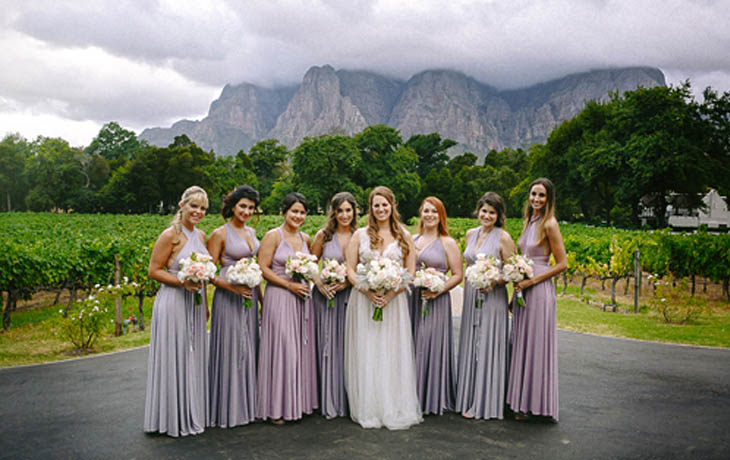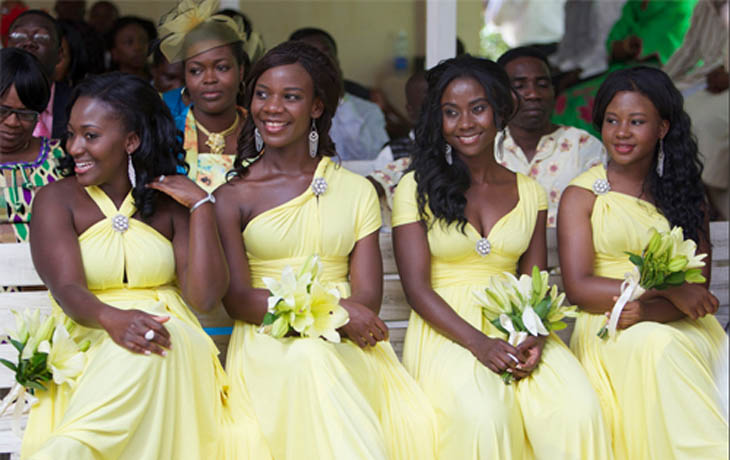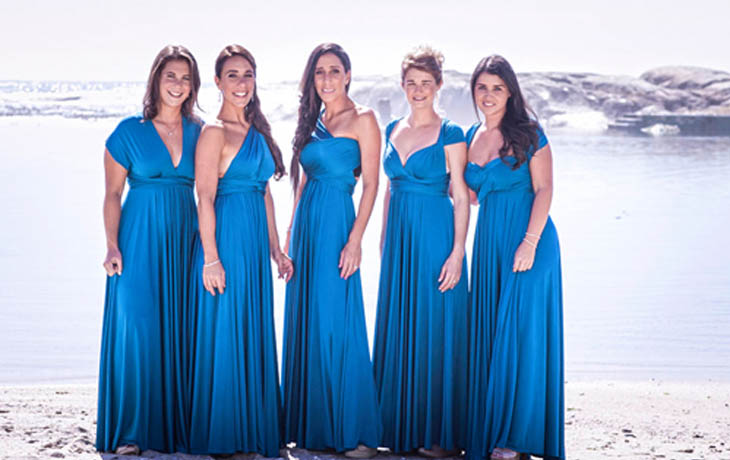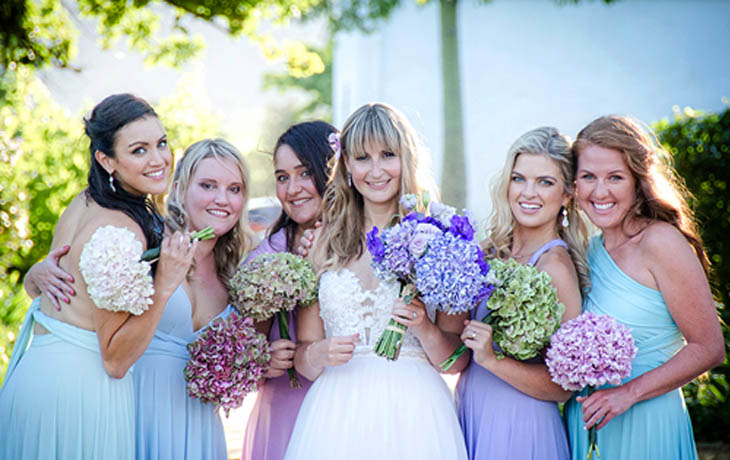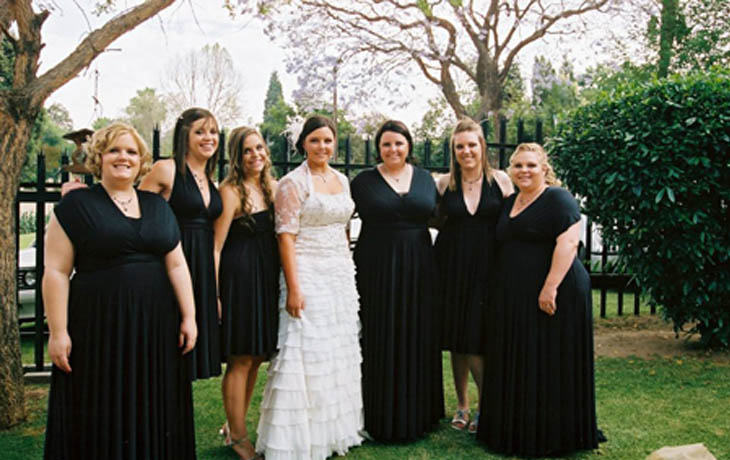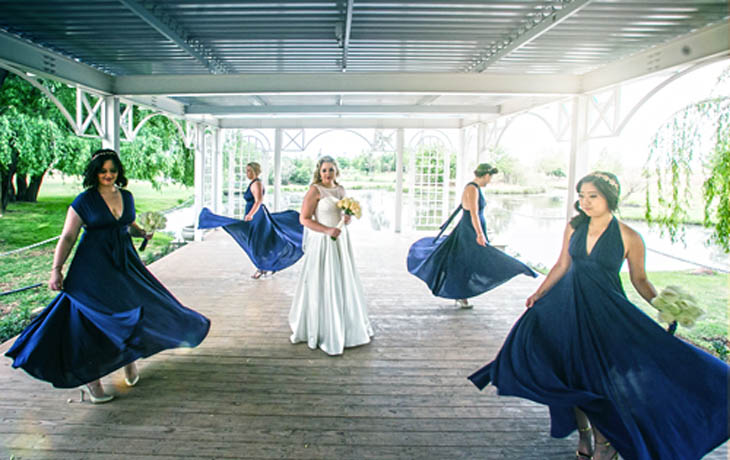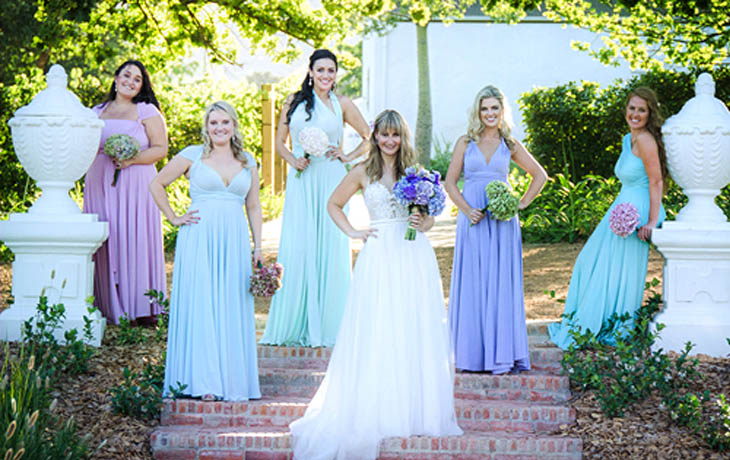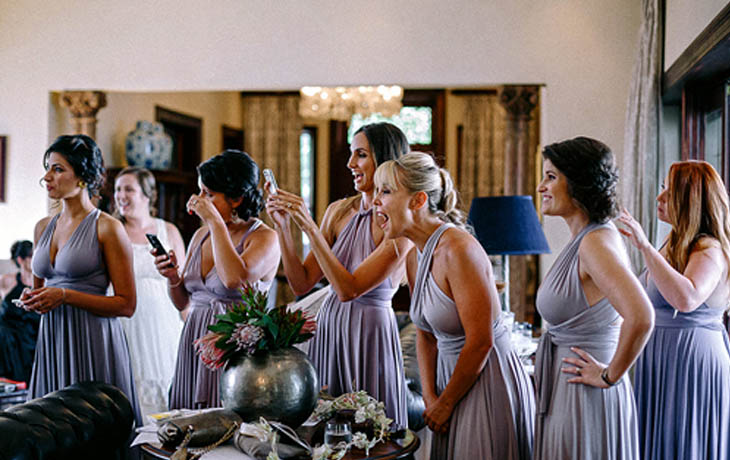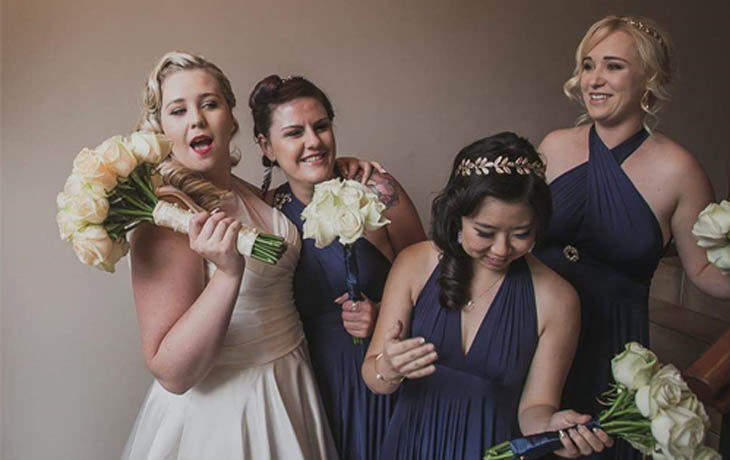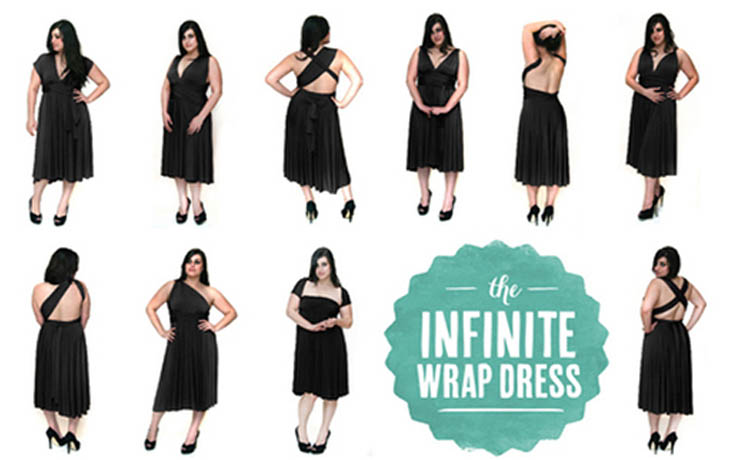 Require Info

Bridesmaids come in all shapes and sizes, and finding one style of dress to suit all of them can be difficult. This is without taking into account that your bridesmaids may be living across the country, or in different countries, and often unable to attend fittings. The infinite wrap dress by Fascinating Julia might just be the beautiful solution you are looking for. A dress with infinite styles, for all sorts of women - it can be wrapped in countless ways and styled for any occasion.
This dress is versatile, convertible and one size, perfect for bridesmaids - in fact, perfect for anything. The dress can be worn in about 15 different ways. Hailed as the "Miracle Dress", the "Magic Dress" and the "Revenge Dress", you can dress it up, dress it down and even flaunt it as maternity-wear.
The dresses are made to order and come in a huge selection of colours. If for some reason they do not have the colour you were dreaming of, they will do their best to source it, from Cape Town to Johannesburg, or back down to Durban. If you're unsure about the colours on the screen we're happy to send you swatches or arrange a meeting and fitting.
Dresses can be viewed in both Cape Town, Johannesburg, Durban and Port Elizabeth by appointment (no charge!)
Fascinating Julia Reviews
Share your review for Fascinating Julia.
Submit Review
Complete all fields below to submit a review.
Emily | Bride
★ ★ ★ ★ ★
I had four bridesmaids at my wedding, all beautiful women, but of very different heights, sizes and colouring. I wanted them to look feminine and pretty but without subjecting them to empire lines and lace.
I also wanted to carry through the subtle balletic theme that underpinned my wedding into their dresses. Quite a tall order. Working with Julia was an absolute pleasure. Despite her being in Gauteng and me in Cape Town, delivery was never an issue and she is polite, patient and very organised. The garments were beautifully made of the highest quality material and the exact colour I asked for and most importantly, made my bridesmaids feel elegant and special. I won't hesitate to recommend her services to any nervous bride.
Gina | Bridesmaid
★ ★ ★ ★ ★
The dress was absolutely stunning as a bridesmaid dress and the colour matched perfectly, I received so many compliments at the wedding. It is extremely fun when trying the dress in all the different styles, it really is the only dress you will need in your cupboard. The dress is so comfortable and the fabric is really fantastic, so flowing and cool, and it is great that it does not crease.
I have and will continue to recommend The Wrap Dress by Fascinating Julia.
Nicola | The Pretty Blog
★ ★ ★ ★ ★
I bought a French Navy Infinite Wrap Dress from Fascinating Julia, last year. And over the past few months my wrap dress has become a wardrobe staple. I have worn it to many weddings and events, both formal and informal. This cute little number can be dressed up or down, and my wrap dress also makes the perfect travel companion.
Lisa | Bride
★ ★ ★ ★ ★
My bridesmaid's dresses were hands down the best I have ever seen. And my bridesmaids loved them – they actually squealed when I showed them what they would be wearing, and they've already worn them again. Which is great, because people always look for the perfect bridesmaid's dress that can be worn after the wedding, but it seems to be a mythical creation. I also loved that they could choose different looks to suit their personalities, without breaking my theme, and the dress was especially good for my maid of honour, who was pregnant. Dressing a pregnant bridesmaid is something of a nightmare, but she looked absolutely gorgeous in a dress that she could 'design' herself so that she felt comfortable.