About Infinity Dress South Africa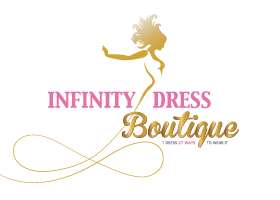 With 27 different ways to wear and Infinity Dress, you and your bridesmaids need not look any further for the perfect dress for them to wear on your big day!
Available in 4 styles (Summer, Cocktail, Evening and Plus Size), you have style your bridesmaids differently or the same PLUS it's the type of dress your bridesmaids can wear again!
Infinity Dresses are custom made dresses that are put together by a team of qualified seamstresses who makes use of the best quality fabrics to ensure your bridesmaid dress is a comfortable and quality one!
Dress Styles:
Summer: 100 different styles, suits every body shape and flows above the knee.
Cocktail: Flows below the knee and can be easily glammed up with the addition of a brooch or bridal accessory.
Evening: Flows below the ankles and is elegant and fashionable.
Plus Size: Provides extra flow from below the bust down to the floor.
For added convenience, dresses are available in a variety of colours and are available for purchase online and are delivered to your door anywhere in South Africa. Tutorials are also available so you have assistance right up until your wedding day on how to style the dresses.
Plus, the groomsmen don't have to be left out either – we also offer Flower Girls Dresses, Mother of the Bride Dresses, Wedding Dresses, Matching Mens Ties, Bow Ties, Pocket Squares.
Where to find Infinity Dress South Africa
Infinity Dress South Africa Client Reviews
There are currently no reviews for Infinity Dress South Africa.
Have a comment regarding Infinity Dress South Africa? Submit a review using the form above.
---
SUBMIT REVIEW
Videos
Infinity Bridal Wear at the SA Wedding show 2015
Infinity Dress Cape Town Fashion Show
Infinity Winter Wrap Dress