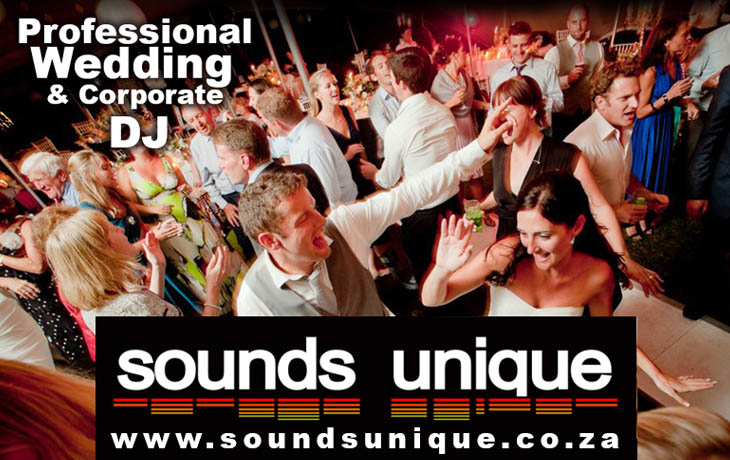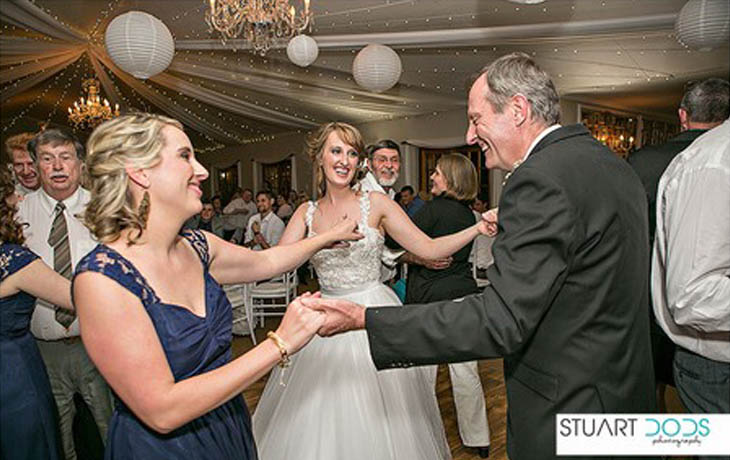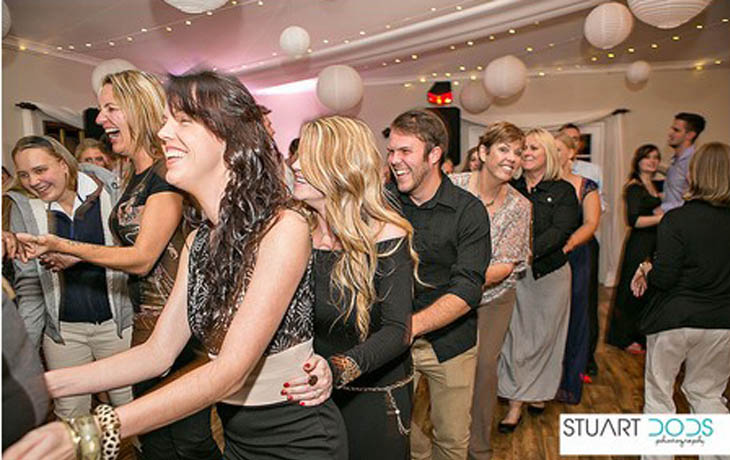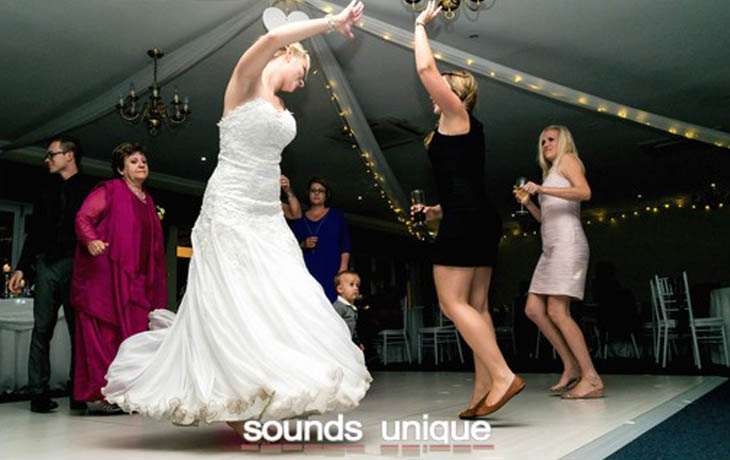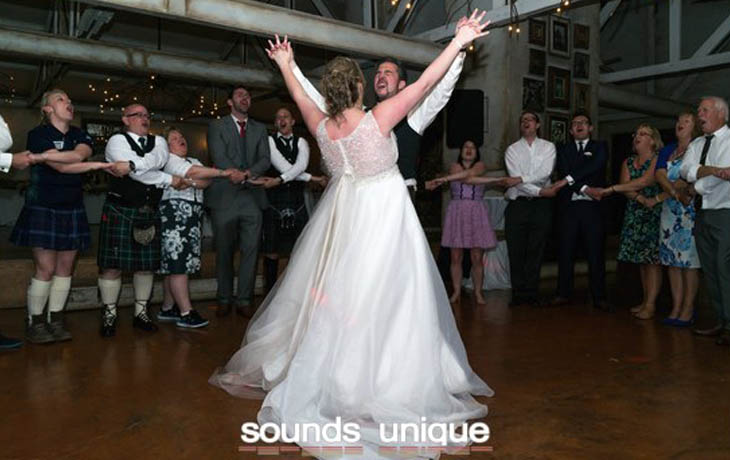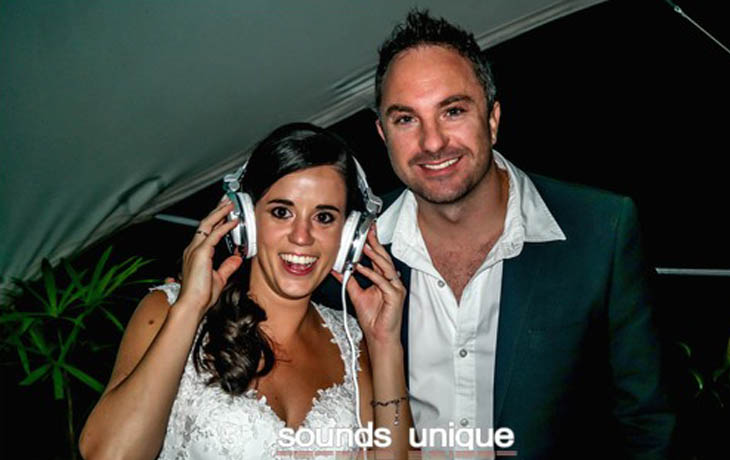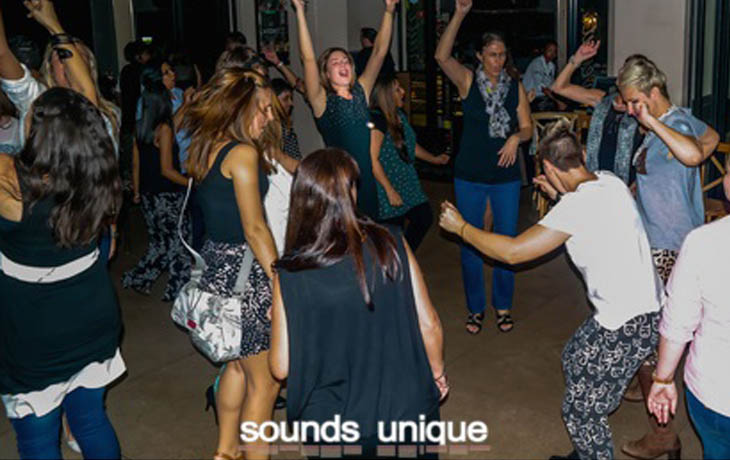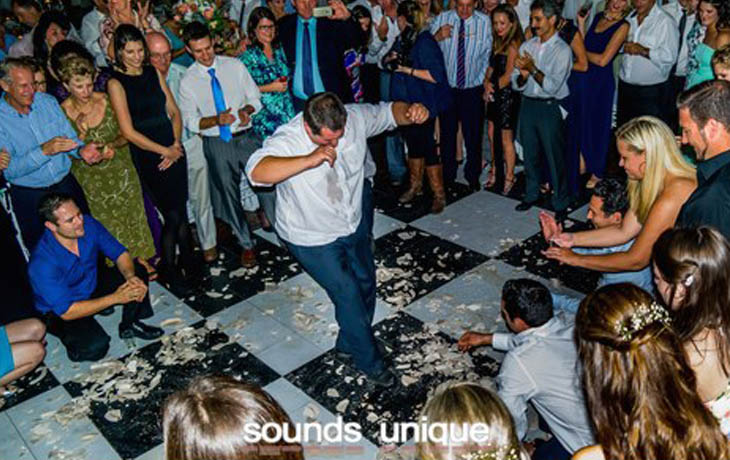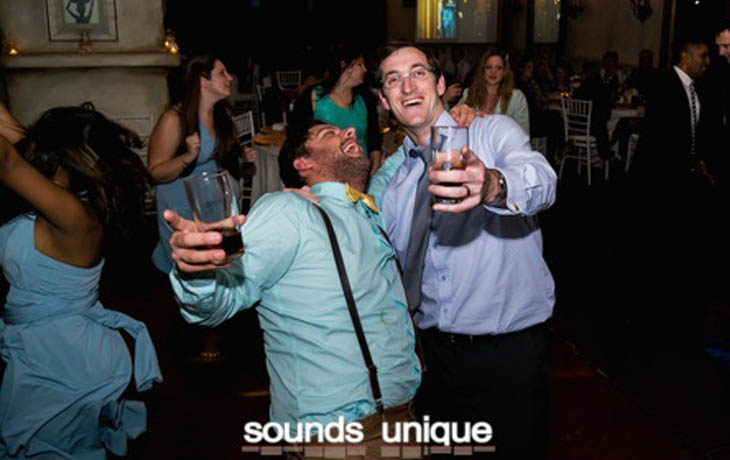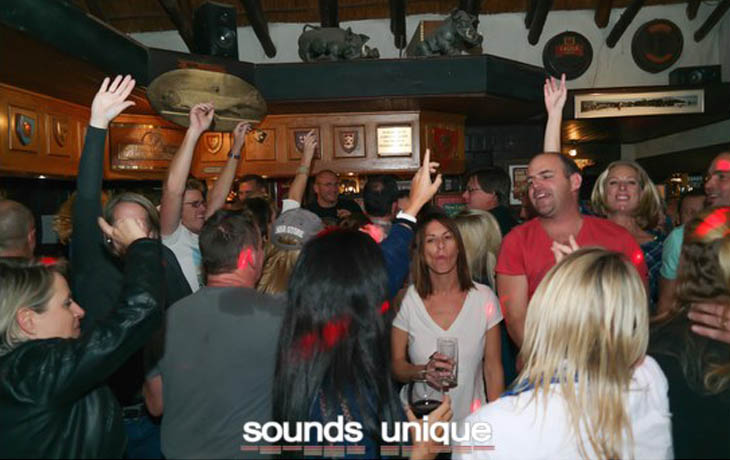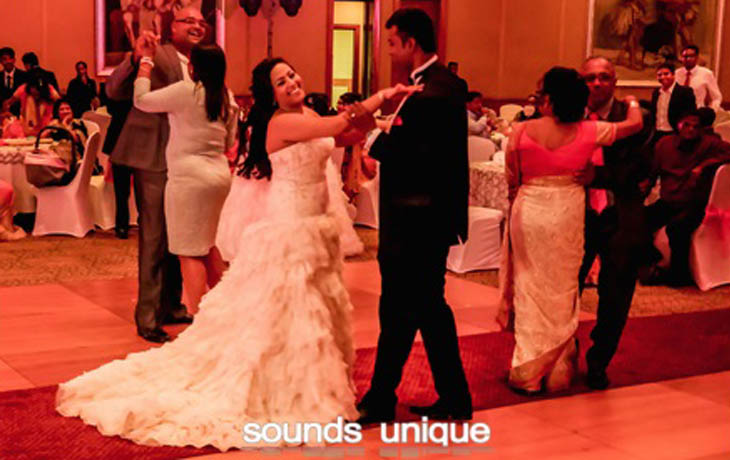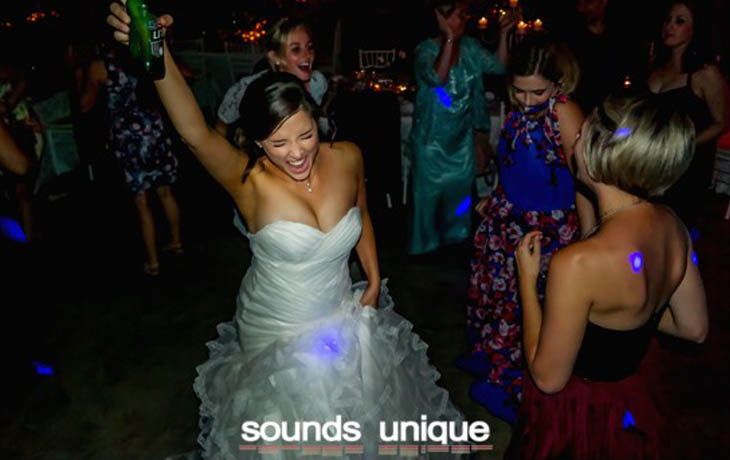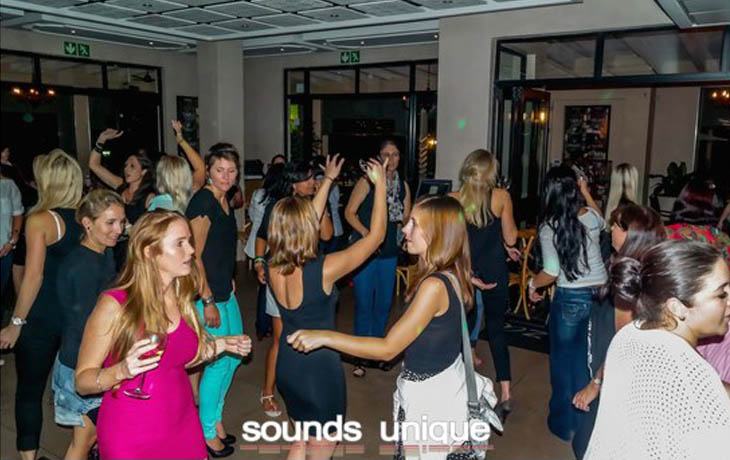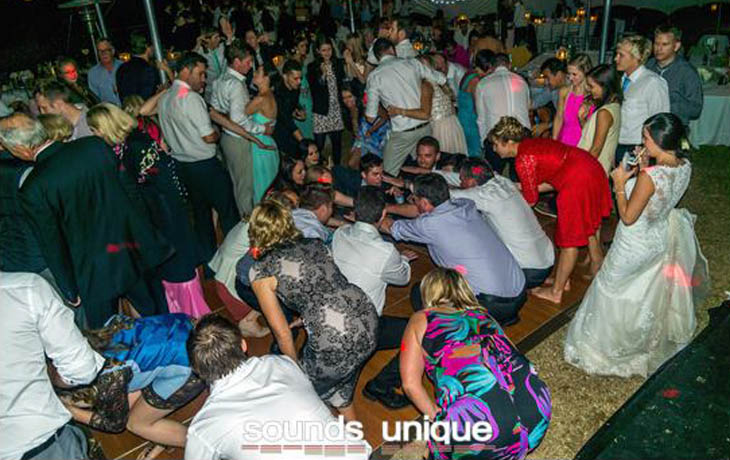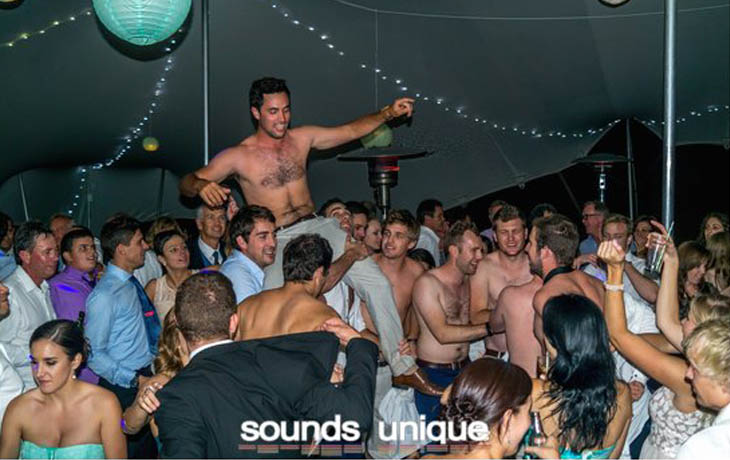 Require Info

Sounds Unique should be the choice of every bride who knows what she wants. We believe that there is no such thing as a difficult bride, because we pride ourselves on working with brides who are particular about their requirements and set on their standards.
Grant takes the success of your function as seriously as you do. It is that simple. By choosing a DJ you can rely on and trust, you can focus on yourself and your preparations for your service and reception.
DJ Grant:
Grant has been a Wedding and Corporate DJ for more than 15 years, with over 500 functions under his belt, you can rest assured that you will be in good hands.
Grant started out as a young DJ in Howick, in the Midlands, DJing at a pub called Cobwebs in the Fern Hill Hotel, and from those humble beginnings moved on to Da Vincis Restaurant and functions in Pietermaritzburg, and for the past 10 years, calls Durban his base. Over the years, he has become a specialist DJ, focusing mainly on being a Wedding DJ, but also does various corporate events/launches, birthday parties, and the like. Grant also works extensively with DJ Damon Beard from East Coast Radio, doing corporate DJ functions with him as well as his renowned Ladies Night in and around Durban.
Grant's extensive experience, professional demeanour, top class equipment, and vast collection of various genres of music guarantees a memorable experience, from booking right through until the very end!
But don't take my word for it... Have a look at my many testimonials, and decide for yourself.
Sounds Unique Reviews
Share your review for Sounds Unique.
Submit Review
Complete all fields below to submit a review.
Justin and Ramola
★ ★ ★ ★ ★
Ramola and I got married at Greensleeves on the 11 August 2012. Grant is a cool bloke who assisted us in getting the DJ plan together at the last minute as, naturally, we were completely pre-occupied with other aspects for our wedding day.

We gave Grant specific requirements, and Grant was more than willing to work within those limits; even though it meant that he could not play some of the most popular songs at that time.

Grant also had the challenge of entertaining guests of various ethnic and cultural backgrounds. He entertained the whole crowd... from Hindi, Portuguese, Afrikaans, Zulu, Xhosa, English, and a few other examples...

With him keeping within our requirements, and Grant's enthusiasm to please the crowd, we got the party we wanted: a good, clean, wedding reception to celebrate the dignified manner we planned our wedding day.

Thanks Grant for doing a fantastic job and keeping your client's need in mind
Wilanda & Craig
★ ★ ★ ★ ★
Thank you so much for all of your help with the music on Saturday. We loved the mix, the vibe, and the fun. You really helped to make the entire experience an amazing one!
Kennan and Sara
★ ★ ★ ★ ★
Sara and I just wanted to thank you for the GREAT DJ-ing at our wedding! We received so many compliments about how good you were. You really kept the people on the dance floor and the party going!
Lea & Paul
★ ★ ★ ★ ★
I just wanted to send a quick message to say THANK YOU SO MUCH for being such an awesome DJ at our wedding on Saturday. We loved all the music you played and thought that you read the crowd brilliantly :)
Karina and Bradley
★ ★ ★ ★ ★
Grant from Sounds Unique DJ'd for us at our awesome wedding at Zimbali Fairmont in July. Apart from being a fantastic guy and friend, he was an excellent DJ. He played music to suit all ages and music styles – although he did stick mostly with our style, which is exactly how we wanted it! He also kept the volume at a reasonable level – we didn't have to shout to each other above the music, which is again, exactly how we wanted it. Thanks Grant!
Greg and Di
★ ★ ★ ★ ★
Thank you so much Grant for making our wedding a fun and festive occasion with your awesome selection of music and the great vibe that you created. Greg's Dad actually danced, this never happens!
Your selection of music was perfect and really set the mood for fun and good times. You were also very professional from start to finish. Greg and I would not hesitate to recommend your Djing expertise to anyone. Thank you once again for really making our special day special.
Matt and Lisa Lammers
★ ★ ★ ★ ★
Our wedding was the most amazing day and everything fell into place so perfectly! It just wouldn't have been the same without you as our DJ, you made everything effortless and amazing and all our guests also commented on what an excellent DJ you are. You took care of everything on your side and made our day extra special, thank you so much!
Lucy and David
★ ★ ★ ★ ★
Just want to send a big thank you for DJ'ing at our wedding, the dance floor was packed for most of the evening which is always a good sign of a great DJ!
Thank you for meeting up with us beforehand and putting my stressed out mind at easeJ It's been great getting to know you, and thanks again for all you did to make our day so special.
Melissa and Darryn Clark
★ ★ ★ ★ ★
Grant DJ'd at our wedding 31st March 2012, at Palm Dune Lodge in Blythedale Beach. He did an absolutely fantastic job, he even helped choose songs for us at the last minute which we hadn't thought of earlier (during the signing & walking back down the isle) and due to his obvious experience everything went so smoothly. The real party started straight after the first dance and continued right through to the very end, all thanks to Grant with his great range of music - even some for the oldies. I was impressed with his range of the latest stuff too, he was able to play any request.
A very genuine guy who was involved from start to finish, he could have easily been one of our guests, he seemed to get on with everyone. I can honestly say he is the best DJ I have ever come across, and that is not just because I was having the best night of my life : ) Thanks Grant, it was an absolute pleasure having you DJ at our wedding!
I will definitely be recommending you to everyone I can : )
Gina and Garey
★ ★ ★ ★ ★
We would like to give a big shout out to Grant from Sounds Unique who totally made it happen for our beach wedding on the 3rd of March 2012.
He mixed in our various requests throughout the day and night and kept a great flow of music coming which suited each part of the event. He was a great MC adapting easily to impromptu turns of events (limbo competitions for example) and made sure everyone was having a good time until the bitter end. Grant really did a fantastic job and it just would not have been the same without him!
Jo and Marinus
★ ★ ★ ★ ★
Just want to say thank you so so much for the excellent job you did. We loved our chilled beach wedding music (sorry about the rain on your equipment) and our relaxed reception vibe. We had both old and young family and friends comment on the good range of music you played. Thank you also for being so helpful. Coming from the UK there were many last minute things to sort and you didn't stress when we didn't have an entrance or first dance song sorted. Thankyou for your suggestions and last minute intervention with these. We are hugely greatful.
Grant's professionalism, helpfulness and ability to read a crowd make him a top class choice for any wedding.
Shane and Janine
★ ★ ★ ★ ★
I just want to say a huge thank you for the awesome job you did at our wedding on the 28th January at Salt Rock. From meeting with you, you gave us many options but at the end of the day we gave you the songs for the 1st dance etc & the rest we left in your hands. And I am glad we did, from after the 1st dance it was a party of note. Not once was the dance floor empty & most of the time it was packed to capacity. We had old and young dancing to the likes of AC/DC , The Clash, Guns And Rose's , Black Eyed Peas, you name it you played it & every single person had a great party. When you rapped that MC Hammer song, that was just top class as well. Then joining us on the dance floor for some good air guitar. You know the DJ is good when he is on the dance floor !!!! Seriously though I have never been to a wedding where there was that much dancing & I will totally recommend Sounds Unique for any function.