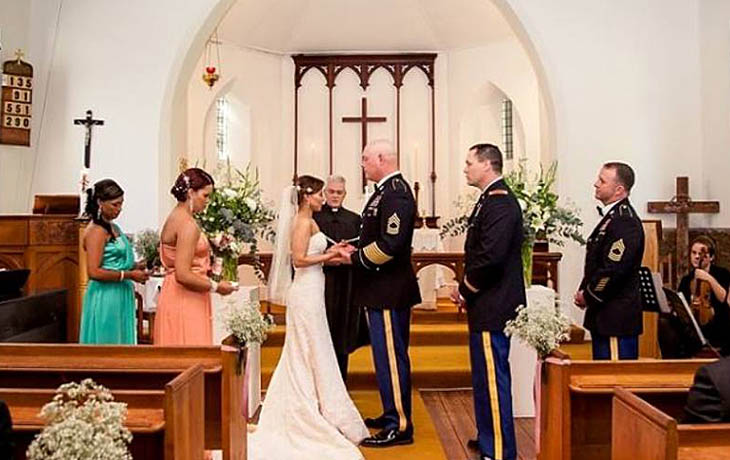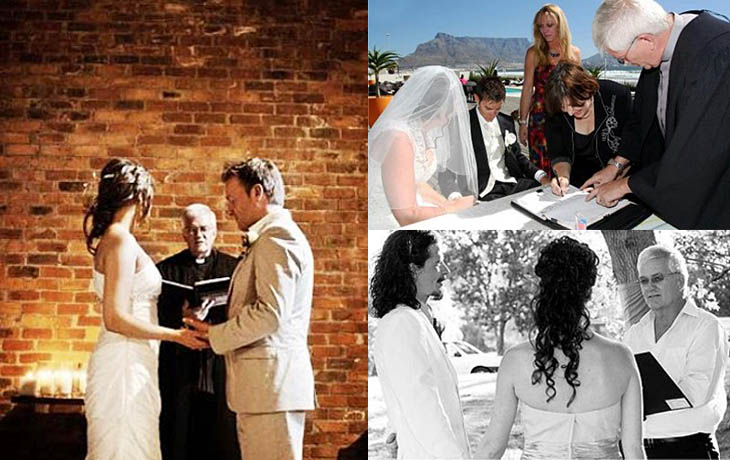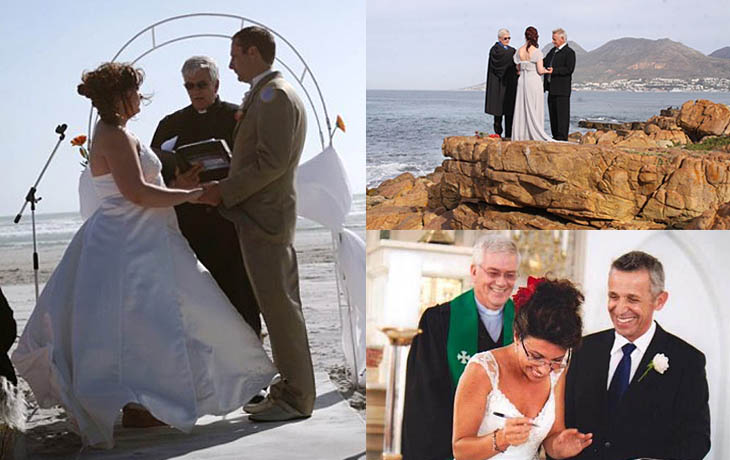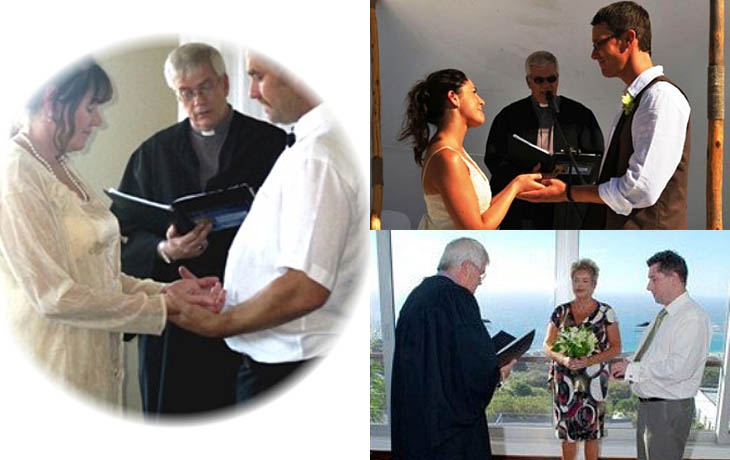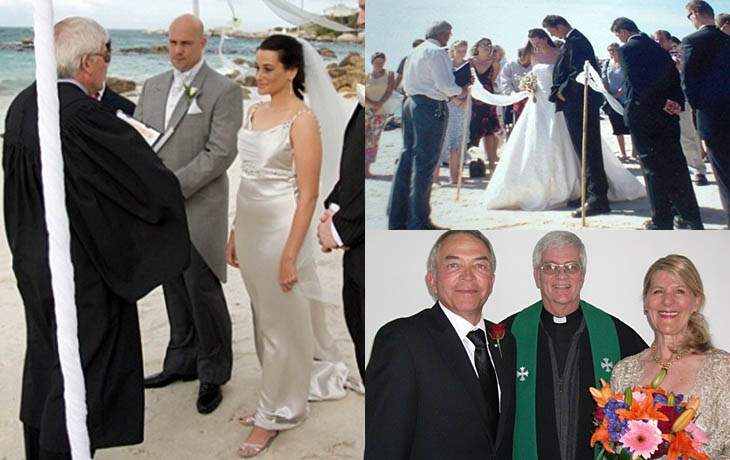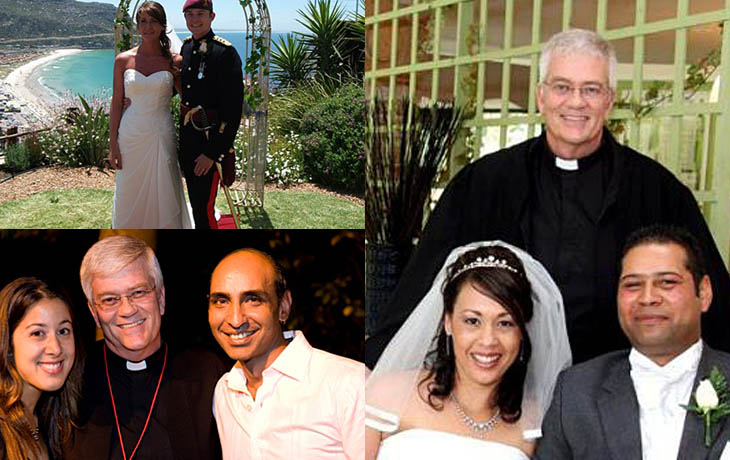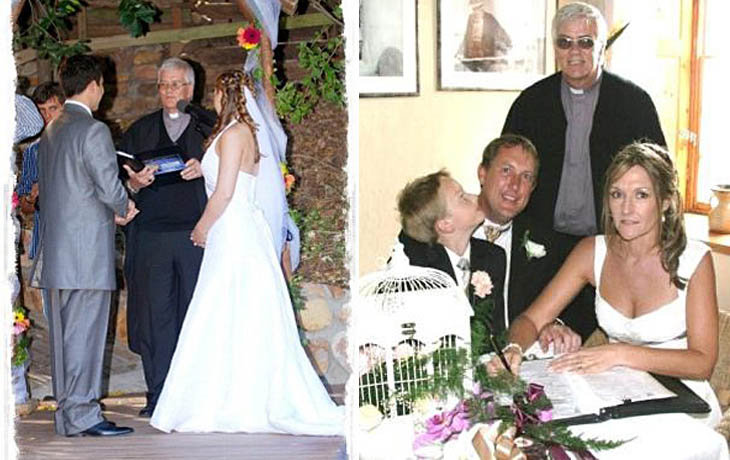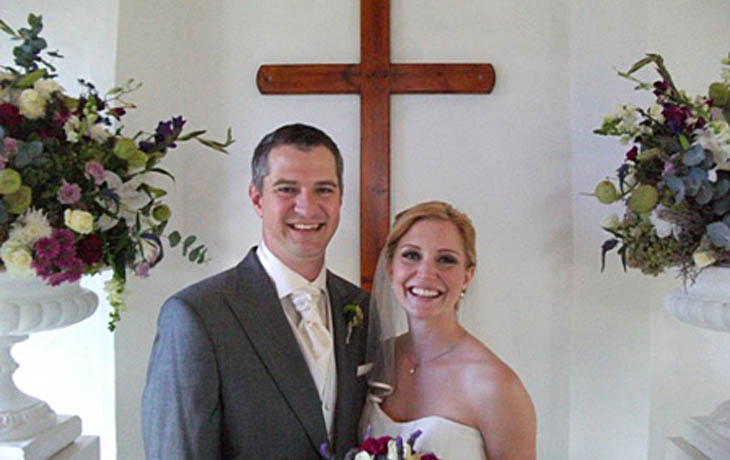 Require Info
Cape Town's favourite and respected Non-Denominational Wedding Minister has changed the defintion of what it means to be a Wedding Minister! Rev. Daniel Brits, with 40+ years of experience has become the most popular choice for Weddings, Christenings, Blessings and Vow Renewals.
Whatever the circumstances or occasion, he is not only a friend, but is also a confidant. He delivers a service that is full of passion and emotion.
A Non-Denominational Minister. A Minister who really does understand the complexities of today's weddings and civil unions.
Marriages, Blessings, Vow Renewals, Civil Partnerships, Same-Sex Marriages
This is a Minister that has fast won the hearts of so many because of his truthful and honest approach to what's real in the world today. Non-judgemental, his endearing charm, his wisdom and his humour all have an undeniable impact. He will always leave your guests with something to talk about.
He has become an international favourite, well known to couples from Chicago, Texas, Spain, England, Denmark, Netherlands and Russia. Couples who have taken advantage of his knowledge of legal procedures and Home Affairs registration, and of the online information via our website.
The Unity Sands Ceremony
A very popular and emotional addition to the normal ceremony. A beautiful expression of commitment.  Fabulous for a Beach Ceremony, but it can be done 'anywhere'.
Beach Weddings / Outdoor Weddings
Remember to enquire about a Beach Permit if you're having a Beach Ceremony.  See here for whom to contact about permits and a selection of Beaches on the West Coast.
Are you stuck with your Vows?
Find lots of inspiration on our website.
Wine Farms in Stellenbosch - Upmarket Hotels in Cape Town & Clifton
Beach Weddings - Small & Intimate - Chapels in Franschhoek
Reverend Jozef Brits Reviews
Share your review for Reverend Jozef Brits.
Submit Review
Complete all fields below to submit a review.
Lucian & Tasneem
★ ★ ★ ★ ★
Rev, thank you very much for an amazing service and thank you for blessing our journey as husband and wife. It was the most beautiful day for both of us. We'll share photos soon. Regards
Athelia & Richard
★ ★ ★ ★ ★
It was an amazing ceremony that suited our personalities to the T. Including my son in the ceremony was an amazing touch and made it that much more special. Everyone of my guests commented that it was one of the best ceremonies they had ever attended. Thank you so much for helping to make my fairytale wedding a success.
Rachael Davidson
★ ★ ★ ★ ★
Rev Brits gave us a wonderful ceremony, which all our guests complemented on. He is also VERY good with paperwork and email correspondence, as I was a foreigner getting married in SA this was so important. Thank you!
Leandri en Ilse Meiring-Botha
★ ★ ★ ★ ★
A big thank you to Rev. Brits, who did not only make us laugh and cry but gave us a couple of amazingly awesome surprises during and after a beautiful and unforgettable ceremony. It was more than we expected. All our guests loved it and gave beautiful comments afterwords. Thank you so so much for all the effort you put in. God bless I&L
Chantal Haupt
★ ★ ★ ★ ★
Thank you so much for such an amazing, comfortable ceremony. Was everything that we wanted. Rev. Brits, what fantastic service you gave. Made our day so very special..
Morghanne and Ivan Procter
★ ★ ★ ★ ★
Thank you Reverend Brits for a phenomenal day! Every moment and every word was so special, and thank you for including our mothers in the ceremony. You created many laughs which made our day even more special.
Thank you for all your guidance and assistance throughout our marriage. Wishing you all the best!
Jan & Mariska
★ ★ ★ ★ ★
Thanks Daniel, you made a very special day in our lives a memorable one. Being from Mpumalanga you took care of all the arrangements with patience and kindness with humour.
We highly recommend you.
Sharl & Inge Wasserfall
★ ★ ★ ★ ★
Revd Daniel Brits gave us a Wedding Ceremony that was beyond our expectation, we wanted a joyous ceremony and Revd Brits ensured we got all that and more. Revd Brits made our Wedding personal to him, he gave us comfort and assurance when we needed it when getting too Nervous and he helped so much in many other ways. We could not have asked for a better funnier and nicer Revd to Marry us. We would highly recommend Revd Brits to anyone.
Candice Schooling
★ ★ ★ ★ ★
Revd Daniel Brits was incredible... His humour added light and laughter to our ceremony. Our Guests absolutely loved him. He has a tendency to add such a special touch to your big day.
We will be forever grateful for his excellent service and for adding such a special touch to our wedding day.
Thank you Revd Daniel Brits
Christopher and Susan Hope
★ ★ ★ ★ ★
Rev. Brits was absolutely brilliant. He conducted the ceremony in a humourous and entertaining manner. This coupled with some really special words of advice on love, marriage and our lives together made for a very special ceremony.
Brian Carter
★ ★ ★ ★ ★
Excellent officiant. He was a pleasure to work with , very accommodating, and the service he performed was fantastic -- very memorable and enjoyable. I really feel blessed we found him.
Eckart & Wanita
★ ★ ★ ★ ★
Thanks Daniel, you were just great. Your cheerful disposition, your humour & special words will always be remembered. Thank you for the memorabilia & reminding us how very precious our hands are!
christopher & jennifer Judd
★ ★ ★ ★ ★
Rev. Britt was Awesome. Great sense of humour and made our beautiful beach ceremony a great memory.
Rune Stang
★ ★ ★ ★ ★
Rev Daniel was the perfect match for us. From the spot he picked out at Llandudno beach to the words he said under the ceremony, everything came together as a perfect day. Thank you for being a part of the most beautiful day of our lives.
Izak and Shay
★ ★ ★ ★ ★
Thank you Rev'd Brits for a perfect ceremony, it was exactly what we wanted, couldn't have asked for more - thank you for helping to make our day very special! Kind regards, Izak and Shay xx
Rohan & Johan
★ ★ ★ ★ ★
Thanks so much Reverend for a beautiful peaceful outdoor ceremony on the beach! The ceremony was beautiful.You have made everything so perfect for us, Every word you spoke was filled with so much respect, compassion and love.
Even the light "rain" we received at the end of the ceremony was as if it was send to start a clean page in our book together as maried couple.
The gift of a laminated copy of our vows and the promises we made to each other was so unexpected and made us feel even more special.
We will highly recommend you!
Once again thank you so much for making our day special in every little way.
We will surely never forget this day and we will always be proud of this day as we are proud of who we are!
Rohan & Johan
Ester & Shirley
★ ★ ★ ★ ★
Thank you very much Revd, you made our day special beyond expectation! Your kindness and jokes just made us feel at home,while we were so far away from home. God bless you further
David and Roxana Francisco
★ ★ ★ ★ ★
Rev Daniel was the perfect minister for us. When we were stressed about getting everything done in time he would contiually set our minds at rest. He was truly a rock on which to depend. The wedding itself was fun yet deep. The rituals he incorporated were so very meaningful. Again he was able to keep us smiling and relaxed. The way he involved our parents and children will leave eternal memories both for them and for us. A heartfelt Thank You!! Reverend Daniels
Lerato and Lerato
★ ★ ★ ★ ★
Thank you very much for making our day super special - we really appreciate it. Our guests cannot stop raving not only about your dashing personality, but also the strength of the messages you shared with us. They will certainly be remembered for years to come. God bless you!
Catherine
★ ★ ★ ★ ★
Words cannot express our gratitude to Reverend Brits for the kindness, patience and assistance he provided with our wedding. We came from out of town and his assistance was invaluable. What an amazing human being, and what a wonderful ceremony.
Catherine
★ ★ ★ ★ ★
Words cannot express our gratitude to Reverend Brits for the kindness, patience and assistance he provided with our wedding. We came from out of town and his assistance was invaluable. What an amazing human being, and what a wonderful ceremony.
Cheryl & Marisa
★ ★ ★ ★ ★
Really made the ceremony amazing and special! We were really blown away, and can happily say we will forever remember our special vows xxx
The van Jaarsvelds
★ ★ ★ ★ ★
Dear revd Daniel Brits
Thx you so much for the lovley words on our wedding day and the baptism of Janri will always be in our hearts and memories,you made this day unforgettable for us and made us feel at ease,you are a kind and loving soul and will definitely use you again to baptise our second child 😊and will definitely recommend you to as many ppl....your words will stay with us always ( loved the sand part) made us tear up.
From the van Jaarsvelds xx
Salete Symons
★ ★ ★ ★ ★
WOW! What an unforgettable ceremony. My husband and I couldn't stop smiling. You were quiet entertaining and everyone loved it! Thanks so much Reverend for a beautiful peaceful outdoor garden ceremony on a spring day! We will highly recommend you..God bless you!
cosmus
★ ★ ★ ★ ★
It was such an amazing moment and felt God's presence amongst us. The smiles, kindness and love from Revd. Brits are priceless. It was worth everything and i wouldn't hesitate to recommend any body to Revd. Brits. Hope to see you again when we come to visit. Thank you so much.
Benjamin and Rachel Lenz
★ ★ ★ ★ ★
The pre-meeting was relaxed and informative. Everyone loved the service and commented on how it was different and the way you engaged with everyone. Involving the mothers was a very nice touch. May you continue the great work you do. Thank you.
Gillian and Simone Beukes-Blaine
★ ★ ★ ★ ★
Words fail us. The way you put us at ease. The way you made us laugh. The way you engaged with everyone. The way you has us all enthralled. The ceremony was beautiful, you were amazing. Every word you spoke was filled with so much respect and compassion. You made everything perfect.
We thank you fo all you did and all the effort you put it. We will forever hold you in the highest regard and hope to see you in the future for our renewal of our vows.
May you go from strength to strength and be blessed always.
Much love and respect,
Rebecca Esterhuizen
★ ★ ★ ★ ★
Revd Brits did an amazing job before, during and after our ceremony. We had so many comments from our guests on how refreshing, entertaining and emotional our ceremony was. Revd Brits provided all the guidance we needed to make our ceremony a memorable one.
Thank you so much!
Duncan Lubbe
★ ★ ★ ★ ★
Absolutely fantastic and touching ceremony by Revd. Brits. We were moved by his words and it was a privilege to have him officiate our wedding. His delivery perfectly suited the type of people we are and the way we were hoping the tone of the wedding would go. The guests thoroughly enjoyed the ceremony and thought that he hit the nail on the head with everything he said. For anyone looking for someone, please put Revd. Brits at the top of your list.
Once again Revd., thank you very much :)
Natasha & Rhyno Joubert
★ ★ ★ ★ ★
Dear Revd. Brits,
Thank you for giving us the perfect ceremony, for your kind words, for putting passion into what you do and making us feel like you've known us for years.
We will carry the memories of our special day with us for the rest of our lives. Thank you for being genuine and giving us all your attention even with a busy schedule.
We are pleased to say we've chosen the right Minister for our wedding day.
Natasha & Rhyno Joubert
Paula Erasmus
★ ★ ★ ★ ★
Thank you Revd. Brits for such a meaningful and beautiful ceremony. We were honoured to have you bless and marry us. Your words meant and mean the world to us. We will carry these in our hearts forever. Marriage is such a sacred bond and we look forward to our lives shared as one. Love Paula and Andrew Erasmus.
Tanzim Smith
★ ★ ★ ★ ★
Dear Reverend Brits.
Thank you so much for a beautiful ceremony. We could not have chosen a better person than you to preside over our ceremony.
Those words not only spoke to our hearts but to our souls as well.
Warmest Regards
Tanzim & Jude Smith
Darryn & Natasha Levitt
★ ★ ★ ★ ★
Our most sincere THANKS and appreciation for presiding over our wedding on 12 March 2015.
The ceremony was so beautiful and moving, and offered a true reflection of what a marriage is. It was the most perfect day for us, and you made it all the more special with your truly moving ceremony. The gift of a laminated copy of our vows and the promises we made to each other was so unexpected and made us feel even more special.
You are truly a wonderful Minister and it was an honour for us to have you marry us.
Richard and Patty Edge
★ ★ ★ ★ ★
Thank you Revd. Brits for a wonderful wedding ceremony, conducted on March 18th, 2015 at Haute Cabriere in Franschhoek.
We arranged this with you sometime back via emails from Australia and found the direction and counselling that you gave us to be thorough and moving. On arrival in South Africa we met and presented all the required documents, went over the ceremony and on the day it was a truly marvellous and moving experience, one that we would love to have an action replay of!
This was the feedback from all the family and guests that attended - for us in particular the inclusion of the Sands aspect was particularly relevant, together with some other hidden gems that you included! We felt very special and blessed that day - once again thank you!
Lizelle & Allan Holmes
★ ★ ★ ★ ★
Thank you so very, very much for performing our beautiful marriage ceremony on Dolphin Beach last week. It was so special, loving and personal I was moved to tears. Your moving message, touching Gift of the Hands and Unity Sands Ceremonies made our day perfect.
Thank you, Lizelle & Allan
Shiraz and Louise
★ ★ ★ ★ ★
Dear Rev Brits
The ceremony you performed for Louise and myself was a wonderful surprise gift. It was personal, inclusive of our families, and unlike anything we had seen or heard of before.
I can tell you that all of the family got choked up at some stage, and your moving vows and manner inspired some of the younger crowd to consider marriage, even the most anti-marriage ones.
Thanks again and all the best.
Natasha and Justin
★ ★ ★ ★ ★
Subject: RE: Marriage Register Date: Wed, 30 Apr 2014 14:48:31 +0200 From: Natasha Smith To: Revd Daniel Brits Reverend Brits, I would like to begin by giving you a word of thanks. Our wedding ceremony was moving and literally brought tears to my eyes. The blessing you have given both of us as we embark on our lives together as husband and wife [and also future parents] meant the world to us. It was an honour to have you marry us. Our vows were perfect and thank you so much for understanding who we are to each other. Once again, thank you so much for making our day the most memorable one of our lives and taking such a personal interest in our ceremony. You really made us feel so special J. The ceremony was the highlight of our day by far. Kind Regards, Natasha and Justin
Lindy Miller
★ ★ ★ ★ ★
Dear Reverend Brits Thank you so much for making our ceremony so special. So many people have commented that it was one of the best services that they had been to, largely due to the messages that you conveyed. We will send you some pics as soon as possible. And will definitely vote for you. Yours Sincerely Richard and Lindy Tinsley
Moira Morris
★ ★ ★ ★ ★
Good Day Rev. Daniel, You made "Our Day" just PERFECT !!!!....The " Hand fasting Ceremony" was different for everyone and you just nailed it when you did "The Sand Ceremony". I heard that some people were asking as to what was going on when you did that one...which to me was lovely because it included my daughter and Roy's brother. We will send you some photos as soon as we get them....."THANK YOU" once again for presiding over our marriage because you just made our day so very special !!! Thank you also for giving us a copy of our wedding vows, so beautifully printed and laminated......we will put them up somewhere in our home to always remind us of those words we promised to one another... Kindest Regards, Roy and Moira Morris.
Matthew Goulding
★ ★ ★ ★ ★
Hello Rev Brits I would like to thank you for a wonderful ceremony and your help marrying myself and Samantha. We thought it was a beautiful and unique ceremony and we have had many people comment on how much they enjoyed the wedding, in particular your ceremony and approach. Your words and good wishes will go a long way to reinforce the commitments we made on that day. We wish you all the best for the future. Kindest regards Matt and Sam
Tricia Da Luz
★ ★ ★ ★ ★
Dear Rev. Brits A rather late THANK YOU! Its just been so hectic since the wedding on the 1st of February 2014. We would like to thank you for marrying us, on the beach in Paternoster. Our guests couldn't stop talking about our marriage ceremony. They were touched at how special our ceremony was, and honored to be there. They have never been to such a unique wedding ceremony. Will be sending you photo's as soon as we get them. Thank you for making it truly special and including our children in the ceremony. It made it even more memorable, for us and the children. Yours truly Mr Daniel and Mrs Tricia Da Luz
Kathryn Davies
★ ★ ★ ★ ★
Thank you, thank you, thank you Reverend Brits. You did such an amazing job. We just adored our ceremony and had so many guests commenting on how wonderful it was. They liked your charm and the humour you brought to the service. It flew by and Phil and I would like to do it all over again. Thank you also to Elaine who was fantastic in helping us get organized for the big day. We would happily recommend you to anyone who asks as we know nobody can do it better. Thanks again with love from Kathryn and Phil x
Jackie & Dewald
★ ★ ★ ★ ★
I would like to say thank you once again for agreeing to do our wedding ceremony for us. It was so special, being able to include our moms and dads in the Unity Sands Ceremony. It really meant the world to us. To be surrounded by so much love of our family and friends.
God bless you for making our day super special.
Mekyla and Christoph
★ ★ ★ ★ ★
Where to start?...so much thanks we would like to give. You had a very important part on our special day and not once since meeting you did we have any doubts that it would be thoughtful, beautiful and memorable. We both knew we were in good hands the day we left your office.
Your passion for what you do radiates through your humor and banter. You exceeded our expectations, never did we imagine our special day to have so much meaning and symbolism.
You came into our lives as a stranger, yet gave us the most beautiful personal gift anyone has ever given us. We thank you forever.
Bettina & Antonie
★ ★ ★ ★ ★
We look back at our very special wedding and still cannot believe how perfect everything was. Our friends and family are still commenting on the beautiful ceremony! Thank you so much for making our day so special.
Alexander & Nicola
★ ★ ★ ★ ★
Many, many thanks for such a lovely ceremony on the 21st. We both are so grateful to you for blessing our union so beautifully and for the extra care you show with all the special printouts. Many of our guests had such lovely things to say both about you.
Leslie and Rina
★ ★ ★ ★ ★
We would like to thank both of you for the wonderful ceremony we had yesterday! We are both totally overwhelmed with the passion in which you conducted the service as well as the memorabilia we received.
James & Xiaoyi
★ ★ ★ ★ ★
Xiaoyi and I want to thank you for everything that you did to make this the memorable day that it will always be for us. We both enjoyed the service very much indeed and your professional but very human delivery made a fantastic impression on Brian and Lindsey too.
We are so happy that we found you and that our first choice was the right one!
Cheryl & Simon
★ ★ ★ ★ ★
We can't wait for our wedding in Franschhoek on 7/4. Having read through your bio - we love your style and humor and especially your non denominational approach to the truly meaningful things and would be delighted and honoured to have you conduct our ceremony. My fiancé Simon has sent an enquiry and we hope to hear from you soon.
Jenine
★ ★ ★ ★ ★
It was a lovely ceremony and all our family and friends also seem to have enjoyed the day. I really enjoyed Rev. Brits and felt so comfortable in his presence. His service was incredibly heartfelt and left us with some good thoughts and feelings.

I would just like to thank you both for everything you did to make my daughter's day so special.

Your service on the whole has been outstanding and believe it or not, also so refreshing. It's harder to find such genuine and authentic people in this day and age.

Thank you from the bottom of our hearts.