About expressions Photography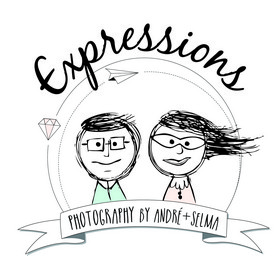 Hi, we are Andre and Selma. We are a couple and a COUPLE of wedding photographers. Cape Town is our home. We are lovers of the world and light. When we are not taking photographs we like to collect passport stamps – we are happiest when doing both.
We consider ourselves contemporary photographers, with weddings being our keen focus. We pride ourselves on our natural approach and aim to create a relaxed and spontaneous atmosphere that sets the scene for breathtaking photos that are both authentic and artistic in nature.

We love telling people's stories. There is very little on earth that gets us more excited than creating something new. Each wedding is an opportunity to create images that are not only new and unique, but that showcase how beautiful you are. There is something very special about documenting people in their most honest of moments.

Our photography is natural, elegant and creative, but most of all it captures the joy and excitement of your special day for a lifetime.

Two photographers.
Two unique angles.
Where to find expressions Photography
expressions Photography Client Reviews
Submit a Review
Candice Roberts

Andre & Selma, these photo's are stunning!! It was an honour to host Dave and Carlie's wedding and great to work with you! I look forward to working with you again in the near future and trust Dave and Carlie have not only good memories but some amazing photo's to look back on too.

Lorna Swan

Hi Andre and Selma, these photo's are beautiful, can't wait to see the rest, you were wonderful photographers to have at the wedding and so accomodating, hope you get lots of work your way.

C & J

Wow, Thank you!!! The pics are so much more than we expected...you truly made our special day unforgettable. Can't wait to see the rest!

Anonymous

I am blown away by the pics! Wow Andre and Selma these are so fabulous and what a bridal party! Haha! I think we look like movie stars each one! Lynne and Terry, these better be entered in some bridal competition or else I will sue you both!

Gineve and Lance

Denver and Elzaan - you can be honoured that you've found someone to capture your special day in such a perfect way! Words cannot describe the happiness I'm feeling for two of my best friends right now...I'm in awe!

Charlotte

Wow - thank you so so much guys - These pictures are incredible - I am completely overwhelmed. You were so amazing and had so many brilliant ideas (that I will be stealing in my next shoot) – you inspire me. We had an amazing day with you both and honestly would have carried on for hours if we hadn't had an obligation to be at the reception. Thank you again for everything, you are truly incredible.

Anonymous

This is the most tranquil photo album that I have seen. It's like I can feel the Nature and how the union between the two of you has been consummated with one another and that Nature, (the order of things, the beauty of things)..Essentially, I was very touched by the Album. May you both be happy 4ever.

Roché and Waldo

Stunning! Stunning! Stunning! They are beautiful, thank you. We had such a wonderful day, and we really had such fun on our photo shoot! Thank you for capturing all the special moments.
---
SUBMIT REVIEW