About Paperock and Scissors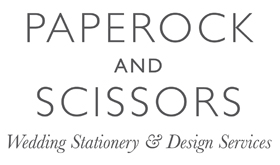 For all of your wedding stationery desires ~ we design, print and deliver modern and colourful invitations that bring your special event to life. With efficient service and exceptional quality every little detail is important to us ~ each booklet is exquisitely hand-finished with a stitched bind, and no bow is left untied!
Whether you choose from our Collection or opt for a Bespoke Design, we work closely with you to make sure that everything is perfect for you ~ visit our website to find out more!
Save the dates (for emailing or print)
Invitations, RSVP and information cards
Hand-sewn booklets for wedding details
Envelopes and personalised envelope liners
Stickers, belly bands, ribbons, strings and tags and custom stamps
Wedding day menus
Order of service/events
Place names and table plans
Posters and signage
Thank you notes
Greeting and gift cards and other design services - small business branding, monograms, graphic design.
Where to find Paperock and Scissors
Paperock and Scissors Client Reviews
Submit a Review
Jenna

Katie didn't just design my wedding invitations, she brought to life on paper the creative vision for my wedding that had only previously existed in my head! I knew that I wanted a rustic/shabby chic theme but what that looked like in the form of an invitation I had no idea - luckily Katie did! Katie created the most beautiful invitations for us, listening to all of our inputs along the way and suggesting things we would never have thought of ourselves. She is also a very genuine person who wants to help - as many people in the wedding industry do not!!

We will definitely be using Katie again in the future. Cant recommend her highly enough!

Minh-Chau

Extremely happy with my bespoke designed wedding invitations. The invitation designed by Katie match the theme and feel for our wedding perfectly. I will definitely be recommending Paperock and Scissor to others. Great efficient service!!

Ali

Katie created the most amazing invitations for us! We didn't want anything too traditional and they were exactly what we were after and she captured all the details and style we had in mind perfectly but added so much extra that we would never have thought to include. We've had some really great comments on them already and we're so thrilled as they look so lovely.

On top of the incredible design, Katie's communication and attention to detail is absolutely fantastic and would 100% recommend.

Thanks so much :)
---
SUBMIT REVIEW