About Schwartz Letterpress Studio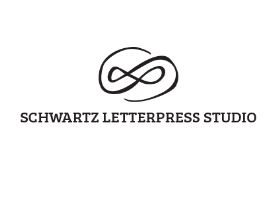 Schwartz Letterpress Studio offers the complete service from concept creation, design to printing the final letterpress product offering a complete handcrafted experience. We specialise in corporate and wedding stationery, including business cards, invitations, coasters and any other product that you desire to have printed in the vintage style of letterpress printing. We also offer foiling, colour edging and die cutting services to complement your stationery with a unique finish.
The main attraction in the studio is the beautifully restored Heidelberg Windmill Platen Press dating from the 1950s. Each product is printed one colour at a time and one piece of paper at a time. This careful attention to detail results in beautifully letterpress printed products. Part of the craft of letterpress printing is the old-school techniques of ink matching by hand, making of plates and set-up of the press – making it a completely handcrafted process. To top it all of – letterpress printing has the smallest carbon footprint of all printing.
We also offer web and digital design services should you be interested in a digital-based solution.
Where to find Schwartz Letterpress Studio
Schwartz Letterpress Studio Client Reviews
There are currently no reviews for Schwartz Letterpress Studio.
Have a comment regarding Schwartz Letterpress Studio? Submit a review using the form above.
---
SUBMIT REVIEW