About Special Occasion Stationery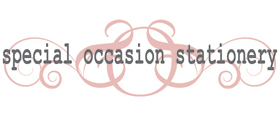 Special Occasion Stationery provides uniquely personalised stationery for any special occasion, from weddings to corporate functions and everything in between...

We do our utmost to ensure that our client's expectations are not only met, but exceeded!  From providing a perfect product and exceptional service to providing those little unexpected extras that really make the difference, has awarded us with VOW & Brides Choice Awards in 2009, 2010 and 2011!

Although based in Johannesburg, clients have come from as far as Mpumalanga, the Cape, Angola, Botswana and Mozambique, with our invitations reaching the hands of various celebrities and government officials.

During the design consultation, you have the opportunity to view various designs and paper samples. While giving you our full attention, we discuss the style, colour and theme of your event, after which we can custom design your invitations and other stationery items to your requirements.

Special Occasion Stationery is a "one stop shop" for all your special occasion and corporate printing and gifting needs to ensure that you...
Where to find Special Occasion Stationery
Special Occasion Stationery Client Reviews
Submit a Review
Leilani & Elaine van Niekerk

Excellent! You perfect the saying "going the extra mile"! You were in touch with what we had in mind and did it even better than expected. Thank you for making everything so special!

Bianca & Eduard Fouché

I was very impressed. From the day I met Yvonne, service was professional, calm, interested in my needs and what I wanted! SOS-Team also later proved to be outstanding, products were beautiful. I will definitely recommend you to anyone who would need such a service. Thank you guys, I wouldn't have had it any other way!

Corlia & Sias Koen

Excellent service and very professional. You gave a little extra every time we collected our orders. It was great to know we were is such good hands! Thank you.

Elize & Eddie Kinnear

We would like to thank you for our stunning wedding stationery – it was exquisite! We received so many compliments from our guests. Thank you for your professionalism and patience with all our demands. We truly appreciate all you have done to make our wedding perfect!

Rae-Ann & Anton Toerien

World Class! Amazing, friendly and dedicated service and a unique end product. My stationery definitely set a very romantic mood months before our big day. SOS is simply the best!

Kayleigh & Leon Taljaard

Professional, Excellent, Quick, Friendly, PERFECT! Working with the SOS-team was one least thing to worry about. We knew everything would be perfect from them!
---
SUBMIT REVIEW