About ETC Events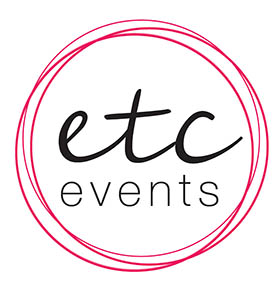 As different as each bride is, so every Wedding is unique, but all deserve the same professional and dedicated co-ordination and planning leading up to and during the Wedding Day which ETC Events provides. We offer a cost effective service to brides that not only eases the stress of planning a Wedding but also offers a wealth of experience, saves you money and still involves the Bride in every aspect of the planning process.
We also offer an in-house stationery service which includes Invitations, menus, place cards, table seating, programmes, favours etc… to suit your theme and décor. As well as all this Debbie is an experienced floral artist and also does Décor and flowers for our brides thereby giving a huge cost saving and peace of mind that ETC Events will be handling all aspects of the Wedding, ensuring everything reflects your vision. These services are all quoted separately following a meeting to establish what is required.
Please contact us for a 'no strings attached' meeting/skype or phone call to discuss your Wedding. We will then provide you with a fully inclusive costing before you confirm our involvement in your wedding.Our diary is almost full for 2017 and we have already started booking for 2018 and 2019, so please get in touch before it is too late.
Where to find ETC Events
ETC Events Client Reviews
Submit a Review
Trish Taylor

Dear Debbie

Mich and I really want to thank you from the depths of our hearts, for planning, managing and organising our wedding.

It was very special having you part of this momentous occasion and you made our home look like a fairy tale.

It was more than we could possibly imagine and some.

Your guidance, support and calming influence was so appreciated. We are truly gifted at what you do, but what we treasured the most

is how much love you poured into our special occasion. We will never forget your magic wand and generosity.

You made our fairy tale wedding dream come true.

Lots of Love

Trish and Mich

Candice & Mark

Just want to say a huge biiiiiiiiig thank you! I have been flooded with compliments and praises about every aspect of the wedding!! Trace, the food has been raved about non stop - the burger bar was an absolute sensation!!! And the cocktails were amazing!!!!! Brendon everyone said how awesome the music was and how nice it was to have a cool DJ!!!! And those pics you took were so flippen cool!!

Debs everything looked beautiful and the day ran so smoothly, helped me feel so relaxed and could just take it all in and be worry free. Shieldsters we had a blast missioning around with you two, you made it so fun which made us comfortable and could be ourselves! Cannot wait to see the results! We could not have asked for a better team to have helped make our day what we wanted! So thank you all very very much!!!!!! You guys are amazeballs!

Carmerita & Marshall

Hey Debs! Just wanted to thank you for everything you have done!You gave us our dream wedding! Everything was perfect and were an absolute dream to work with.

Lucinda, Richard, Nicola & Ian

This note of thanks comes from us all for helping to make Nicola + Ian's day the most wonderful, happy, stress-free occasion for us all. Your organisation, management and effort was quite amazing, and was commented on by all who knew your role. You will be highly recommended by us to any in need of your services (have already been asked by one guest for your details)! I apologise for the late email, but we have just said goodbye to our last guests for today. Nicola + Ian left at 2.30pm and loved every minute of their wedding.

Well done on providing such an excellent service!

Robyn & Tinus Olivier – Tala Winning Bridal Couple 2011

Debs! We were blessed beyond words to have you as our wedding co-ordinator! Not only were you there for us professionally, but there for us for friendship, loads of love and support! Without your help,Your Smiling face and kindness...I would have been a wreck! Thank you from the bottom of my heart for Making our amazing day... EASY!

Claire & Rob

This is just a tiny token of our IMMENSE appreciation. You have done wonders and worked your MAGIC. Thank-you so so much, we just cannot thank-you enough. Thank-you for being a such a great support to me and mom and putting up with all our stresses . You are a STAR.

-

Words cannot express how grateful we are for all your planning, running around and effort. This day would not have been possible without you. Thank you for making this the most incredible day of our lives.
---
SUBMIT REVIEW