About Dikwena Lodge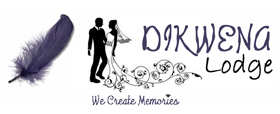 Dikwena Lodge is the place where lasting memories are created for life's most special moments.
The team at Dikwena Lodge pride themselves on the all the effort they provide to ensure your wedding day becomes a reality and all you dreamed of.
Dikwena Lodge is the perfect option for a weekend wedding destination. The Lodge provides on-site accommodation for approximately 16 guests.
Exclusive use of the Lodge is available and ensures the wedding guests can relax and enjoy the upcoming wedding while the bridal couple focus on their big day.
The Lodge is hidden away on a private game lodge. To ensure bridal couples receive undivided attention on their big day, only one wedding a day is held at the lodge.
The Dikwena Lodge team understands the stress and time that goes into planning a wedding. To make bridal couple's lives easier, Dikwena offers all-inclusive weddings packages to suit the needs of the couple.
At Dikwena, you can be assured that every little details of your special day will be taken care of and every effort will be made to make the day as special as possible for everyone attending and participating in the wedding
Where to find Dikwena Lodge