About Eden's Gate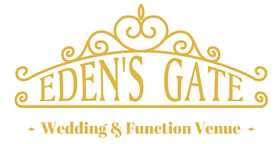 Eden's Gate Wedding & Function Venue is beautiful and romantic country wedding venue as is known by many as the "Jewel of Magoebaskloof".
This beautiful wedding venue boasts a breathtaking forest chapel that is complimented by a stream that flows through making the exchange of vows a magical experience.
The venue's hall, approximately 30m from the chapel, overlooks a Trout Dam and natural forests. While standing on the venue's 18m x 10m wooden deck, one can see and hear the water flowing beneath the deck – all of this combined with the natural surroundings adds to the peaceful and relaxed atmosphere.
Those looking for a wedding venue that offers a relaxed and magical setting where you can be sure you and your guests will be treated as royalty, then Eden's Gate Wedding & Function Venue is for you!
Experiencing this venue and all it has to offer is a MUST for at least once in a life time, so treat yourself and your guests to a wedding of a lifetime.
Wedding venue can sustain up to 360 people
Where to find Eden's Gate