About Gelukkie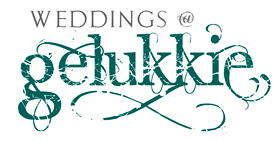 Garden Wedding Venue
Paternoster Wedding Venue, Gelukkie, caters for couples looking for an intimate and rustic daytime wedding aimed at 50 guests max.
Gelukkie (noun): a concentrated measure of unadulterated joy. Weddings at Gelukkie are unique and intimate occasions filled with a spirit of love and joy.
Working together to make a Wedding day as unique and special as the couple themselves, is a guiding principle when planning and hosting a Wedding at Gelukkie. Nestled in the heart of Paternoster in the Western Cape it's only a 2min trip to the pristine beaches of the West Coast. The farm shares the tranquillity of the Karoo and the ocean promises an adventurous lifestyle. The beautiful garden is a lovely, evergreen oasis and provides a whimsical, rustic setting for ceremonies and some truly magical photo opportunities.
Dreams of a beach ceremony with sandy toes and salty kisses are also part of what Gelukkie can do. Several spaces around Gelukkie work well for different elements of a wedding each with unique charm and a rustic-chic style. Of special mention is the beautiful venue, Joy, it is the embodiment of its name and the sounds of laughter, sharing of food and friendship, mingled with the clink of celebratory glasses can be heard floating from inside. To top all this, all of the delicious food presented at Gelukkie is cooked outside on open fire pits and ovens!
Gelukkie is well-suited to a small or medium wedding of up to 50 people. Please note: we only host DAYTIME weddings ending at 5 pm latest.
Additional Services Available:
• Garden or beach ceremonies are available – just arrive and enjoy.
• In-house decorations and flowers services included in the package.
• Assistance in all elements of the wedding planning including accommodation and weekend activities by the resident wedding planner.
• Menu options between sit-down and market style
Gelukkie Facilities
AVAILABLE FACILITIES
Bar
Dance Floor
Gazebo
Honeymoon Suites
In-house Caterer
In-house Coordinator
Indoor Wedding Venue
Offsite Parking
Onsite Parking
Outdoor Wedding Venue
Smoking Area
Specialised Service for International Brides
Suitable for Small / Intimate Weddings
Wheelchair Friendly
FACILITIES AVAILABLE ON REQUEST
Where to find Gelukkie
Gelukkie Client Reviews
There are currently no reviews for Gelukkie.
Have a comment regarding Gelukkie? Submit a review using the form above.
---
SUBMIT REVIEW