About Meander Manor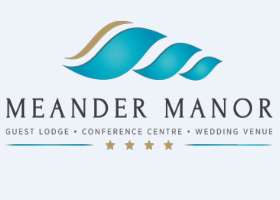 Meander Manor offers the perfect choice of wedding venue by providing a venue that offers the ultimate balance of luxury, beauty and scenery.
Meander Manor's grounds boast spectacular views of the ocean and an exquisite backdrop for those looking to have a coastal wedding.
The surrounding scenery and beautiful venue make for stunning photography options for your big day.
By adding that personal touch we are able to provide the level of service our guests require, but also bring you that warm 'home' feeling when you book a stay at Meander Manor.
We achieve this by creating an environment where you feel welcome and top it off with friendly staff that services your every need with a smile. Whether you are on vacation, waking up to a morning of bliss after a majestic wedding or you are ready to relax after a noteworthy business conference, Meander Manor is there to keep you in style and comfort.
We look forward to welcoming you to The Meander Manor Exclusive Guest Lodge … stay with us and feel like royalty.
Where to find Meander Manor
Meander Manor Client Reviews
There are currently no reviews for Meander Manor.
Have a comment regarding Meander Manor? Submit a review using the form above.
---
SUBMIT REVIEW