About Oak House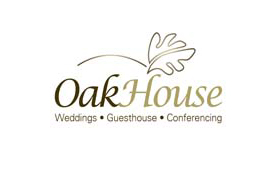 Situated in the small town of Cullinan, found in the North of Pretoria, is where you will find the magical wedding venue, The Oak House.
The Oak House is a wedding venue surrounded by natural beauty and a place where bridal couples and their guests get to experience history and the culture of Pretoria's gem.
Build in the 1900s, the Oak House was initially used by the general manager of the Diamond Mine and was used to keep the world famous Cullinan Diamond safe.
The history of this venue plays an intricate part in the décor of Oak House's honeymoon suite. The house has been beautifully decorated with original pieces of furniture shipped from England during the early 1900s. The Edwardian style and influences are evident throughout the old sand stone guest house.
Weddings at the Oak House
There is an Anglican Chapel, designed by Sir Herbert Baker, where bridal couples can exchange their vows. The chapel is located a few meters away from Oak House and is a wonderful romantic and intimate setting to start off your wedding day's events.
Those looking to tie the knot at Oak House have a choice between 2 equally opulent reception rooms – both of which include a private bar and atmosphere. For those looking to have a more intimate wedding of 50 or less, the smaller venue available forms part of the old sand stone guest house and ensures your wedding will be remembered by all who attend.
The large banquet hall provides a modern yet classic feeling. The reception room with its high, white roof trusses, white wooden floors, and corrugated iron provides a unique and beautiful setting for your wedding day!
Wedding couples can relax and enjoy the Honeymoon suite after the wedding day is done. Couples are treated to a delicious breakfast the morning after the wedding. All this is included within the Wedding Package Price.
The enthusiastic, capable and competent Oak House team are ready and waiting to ensure your wedding is executed with finesse and attention to detail. The team are always excited to show off the finer details of Oak House to potential guests and for this reason, viewings of the venue are by appointment only.
In addition to weddings, Oak House is suitable for a variety of different functions including, and not limited to year-end functions, conferences, birthday parties, lunches and special events.
Oak House Facilities
AVAILABLE FACILITIES
Bar
Chapel
Children Allowed
Dance Floor
Gazebo
Honeymoon Suites
In-house Caterer
In-house Coordinator
Indoor Wedding Venue
Offsite Parking
Onsite Parking
Security
Smoking Area
Specialised Service for International Brides
Suitable for Small / Intimate Weddings
Wheelchair Friendly