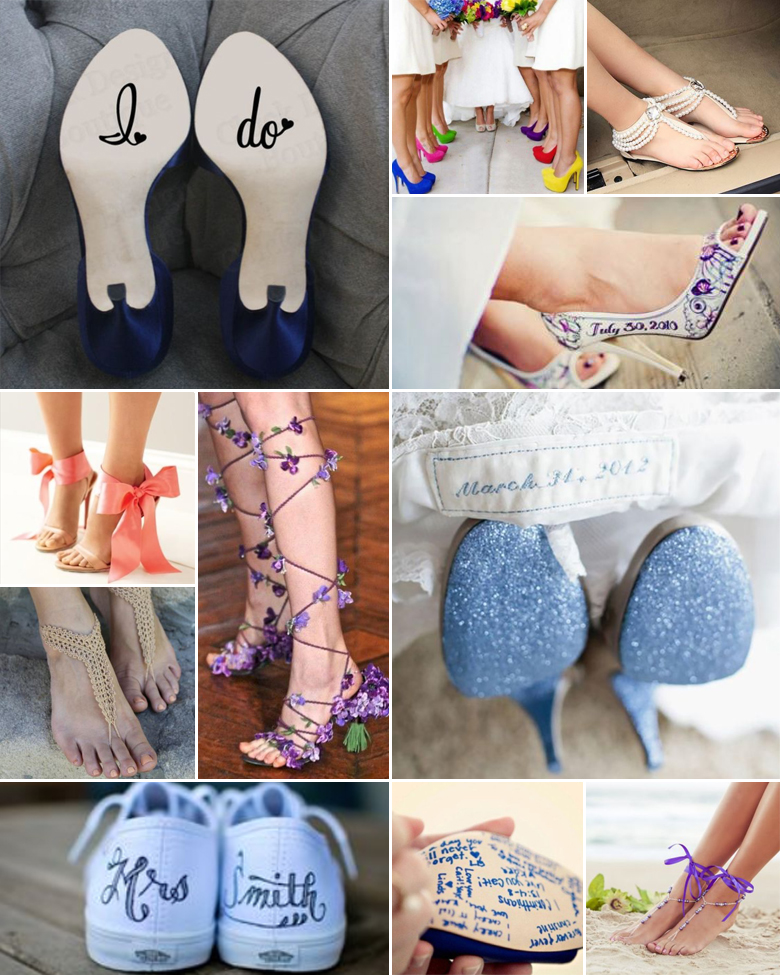 It's time to have some real fun with shoes! Though it's not a detail of your wedding ensemble that is seen very often throughout the day, you still want to wear stylish and unique shoes that make guests look twice.
Some brides get married barefoot; others want the elegant heel and some prefer funny and funky shoes. No matter what your style or preference, there is always room for creativity.
For the barefoot bride:
Thread a piece of ribbon or string between your first and second toes and tie it around your ankle. Decorate it with beads, lace or feathers or weave it to make interesting patterns.  Alternatively, draw your desired shoe onto your foot with henna, or bedazzle your foot with body art.
For the stylish heeled bride:
Buy a simple shoe in the style of your choice and decorate it like crazy. Cover in rhinestones, little mirrors, or lace, paint it, paste ribbon and other material or feathers onto it, write on it, glue buttons onto it or decoupage pictures onto yours shoes.
For the funky shoes brides:
Wear whatever you feel comfortable in, be it sneakers, water boots, ankle cargo boots, cowboy boots, pumps, slippers or an elegant sandal.
Just make sure that whatever shoe you decide to wear, you can comfortably walk in them without tripping on your way down the aisle.
Original images and their credits available on Pinterest