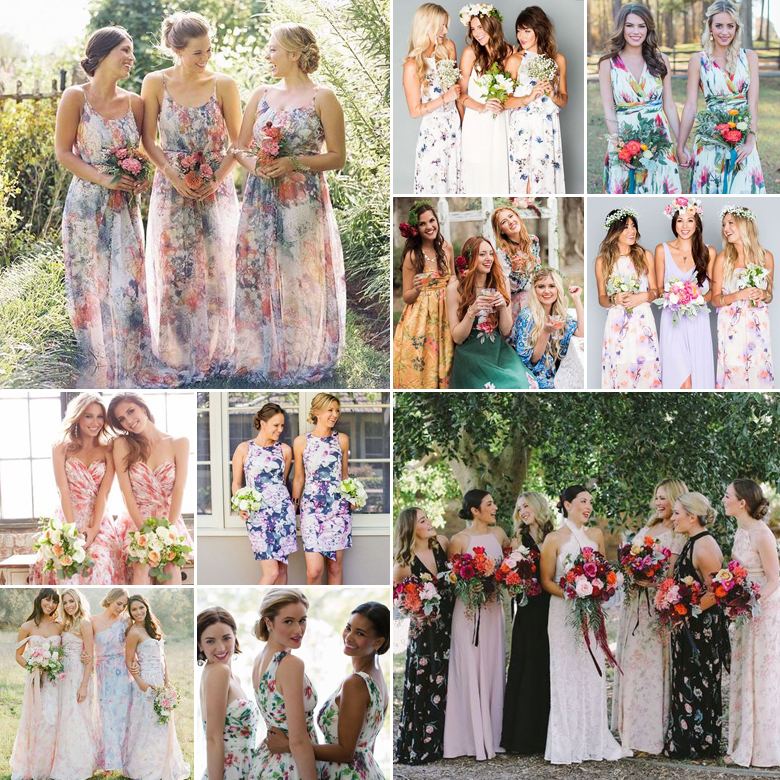 We've expressed our intense love of floral wedding gowns in the past, but today we're shifting our focus entirely – to the bridesmaids.
Floral patterns have made a massive come-back, and we're loving the idea of floral bridesmaid gowns. It's different, fun and playful, and has springtime wedding written all over it in striking prints. To keep things from getting too chaotic, keep the accessories and flower arrangements incredibly simple. In fact, why not consider dropping the bouquets altogether? After all, you don't want a flower overload!
If you really take a moment to think about it, you'll see that the options are virtually endless. For starters you can opt for bold striking prints, or keep it light and lovely with dainty and delicate floral patterns. Then there's the many colour combinations and print styles – from life-like and watercolour to whimsical and sketched.
As with all bridesmaid gowns, the most important thing to bear in mind when choosing the print is the comfort of your bridesmaids. Don't put them in colours and shapes that they're not 100% comfortable in. If floral print isn't flattering on all your lady friends, consider dressing some of the bridesmaids in plain coloured gowns that complement the florally ones.
Original images and their credits available on Pinterest