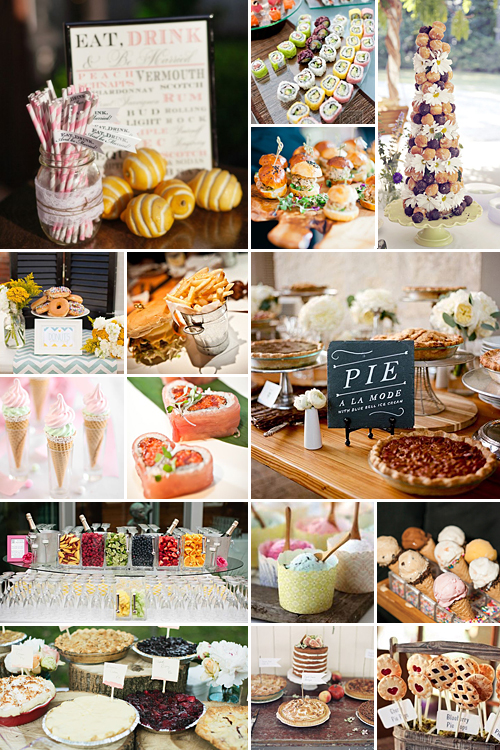 Your wedding is a time to relax, and celebrate with friends and family. And the food you choose to serve your guests plays a major role in the fun and overall enjoyment of the event. Consider being less than traditional by opting for these alternative catering ideas:
Donuts – replace your traditional wedding cake with a tiered stand filled with sugary, colourful donuts.
Mini burgers – gourmet burgers are delicious hors d'oeuvres to keep guests busy as they await your return from your wedding photographs.
Popcorn – salted or candied popcorn served in cute paper cones is budget-friendly and innovative.
Ice cream / Sorbet – whether sweet or savoury, there is sure to be a flavour that suits your wedding.
Sushi bar – hire a professional chef to make sushi on demand for your guests.
Cookies and milk – this is the ultimate in comfort food. Offer flavoured milks and a variety of cookies.
Pies – platters of tasty, mini savoury pies for hors d'oeuvres or fruit-filled pies for dessert are a great alternative.
Soup shooters – serve a variety of tasty soups in shot glasses for your guests to sample as they mingle before the formal event.
Champagne bar – create a station on which quality bubbly and tasty snacks (such as oysters, strawberries, smoked mussels, etc…) are offered for the ultimate in sophistication.
Original images and their credits available on Pinterest