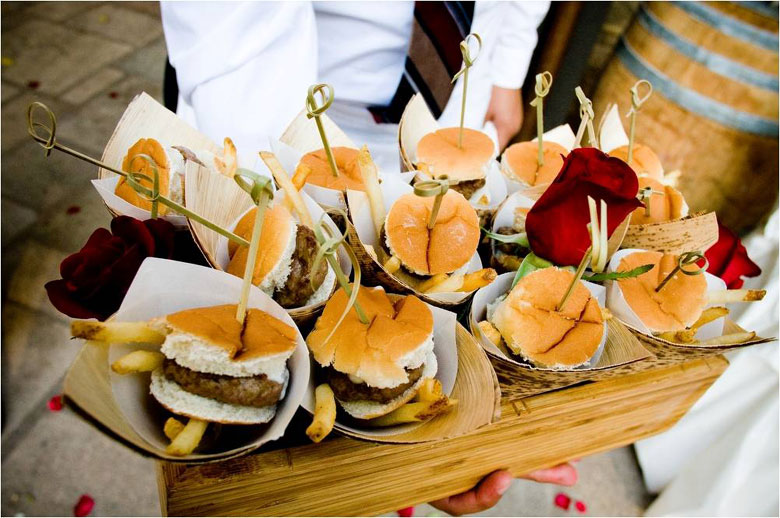 Your wedding reception is a time to enjoy and celebrate your union with good friends and family. It is characterised by dancing, chatting, mingling and touching speeches. However, thefood is also a major part of your reception, creating a very definite expectation in the minds of those planning to attend.
When considering what to include on your wedding menu, it is important to keep the tastes, ages and dietary preferences of your guests in mind. In order to cater to the majority, many couples revert back to the 'old faithfuls', such as roast beef and grilled chicken. However, there is plenty of room for innovation while still keeping the menu vibrant and novel. Consider the possibility of including these catering alternatives to make the culinary part of your special day extra memorable:
Donuts – create a visual spectacle with a tiered cake stand overflowing with glistening, sugary donuts. This can simply be an added feature, or can replace a traditional wedding cake. This is fun, can be eaten with the fingers, and is versatile as a number of colourful toppings can be used.
Mini burgers – gourmet burgers are a firm favourite amongst young and old. Create platters of mini treats using good quality bread, homemade patties and a tasty dipping sauce. This is fabulous as hors d'oeuvres while guests await your return from your wedding photographs.
Popcorn – serve salted or candied popcorn in cute homemade cones for a budget-friendly, novel and tasty alternative to finger snacks or a formal dessert.
Ice cream / Sorbet – there are some amazing ice cream and sorbet flavours available. There are even savoury flavours (such as gorgonzola, red wine and avocado) that are sure to be a pleasant surprise to sceptical guests.
Regional cuisine – if one or both of you are from another country, consider creating a catering theme around the cuisine from there. This will be great for your friends to sample, and is sure to remind your family of their home favourites.
Chips – once guests have been dancing for a while, they may start feeling peckish again. Bring out cones of hot chips and make a variety of dipping sauces available for a very welcome snack.
Sushi bar – hire a professional sushi chef to make sushi on demand for guests that want it. This is a great feature and will attract loads of people that love sushi. Make sure that only a few items are made available on small menus so that the chef is not expected to create very complicated (time-consuming) sushi snacks.
Cookies and milk – this is a very easy alternative to dessert and is the ultimate in comfort food. Create a milk station at which guests can choose from a range of flavoured milks (vanilla, strawberry, mocha and so on) as well as a variety of biscuits.
Pies – a well-made pie is a rare treat. Have platters of mini pies made up for hors d'oeuvres or sweet, fruit-filled pies for dessert.
Soup shooters – let your guests sample a range of tasty soups by serving them in shot glasses. This is a great way to keep them happy while they wait for you to return from the photographs. It also doubles as a starter.
Champagne bar – for a really glam, sophisticated option, serve dry champagne with oysters, strawberries, smoked mussels, etc… Create a station at which guests can help themselves to tasty morsels and quality bubbly.
Photo Credit: www.onewed.com