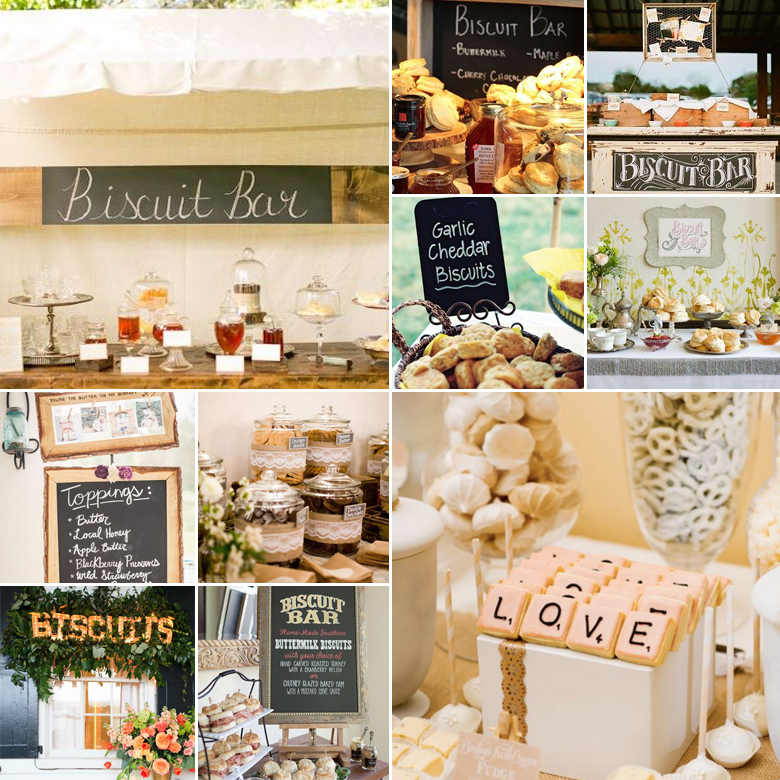 Teatime is just never complete without a biscuit! So if you're oh-so very British at heart, why not consider a biscuit bar for your wedding day? Biscuits are also really easy to make yourself in the weeks leading up to the wedding and, unlike other sweet treats, they can be kept for a while in an airtight container.
Make it extra interesting by pairing the biscuits with a selection of wines and liqueurs.
The biscuit bar is best accompanied by a choice of teas and fine coffee.
Alternatively why not turn up the fun element with an assortment of creamy mini milkshakes or hot chocolate?
Serve biscuits around midnight when guests need a second boost of energy to hit the dance floor.
For something a little more interactive (perhaps during the cocktail hour), allow your guests to decorate their own biscuits with frosting and sweets.
We love the idea of hanging biscuits! Make sure you make a small hole in each biscuit before baking it so you can thread ribbon through it once done.
Build a wedding cake out of biscuits! Simply stack the in layers until the tier-shaped cake is created.
Add a touch of nostalgia by adding simple but delicious favourites like Marie Biscuit smores and Romany Creams to the table.
Original images and their credits available on Pinterest