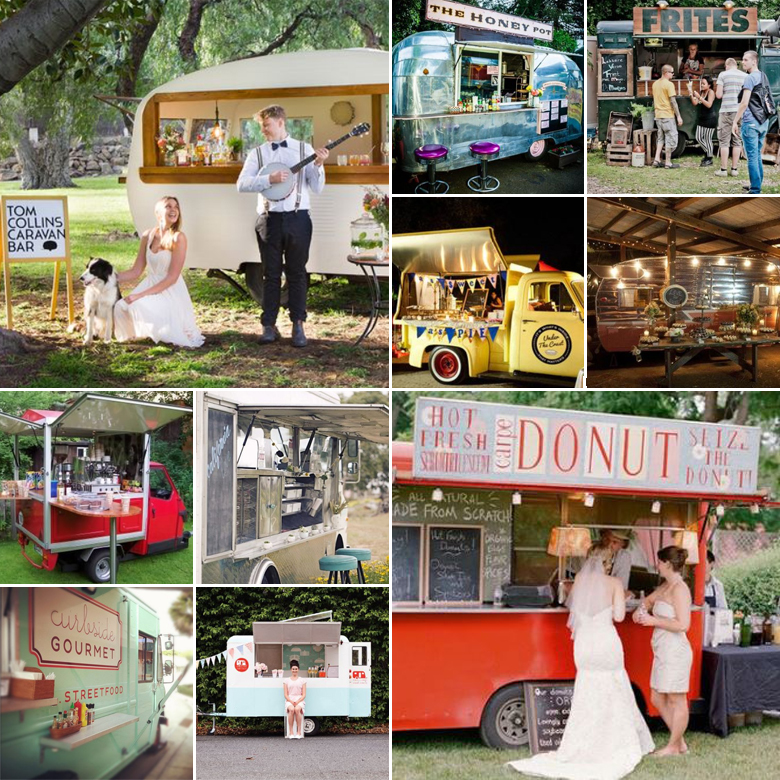 With the recent rise of the food truck, it's no surprise that more and more old caravans are being converted into catering vans. Whether you're planning on setting up your own caravan or renting a food truck, here are some ideas for what to serve through the window:
A waffle truck is guaranteed to go down well any time of year – ideal for dessert or starters.
Setup a cart with canapés and pre-drinks, which can be towed away when the reception begins.
Instead of a traditional bar setup, serve cocktails from inside a caravan.
Bring on the milkshake bar! When dessert time comes, there's nothing better than choosing your own milkshake toppings and ingredients.
Opt for a themed cart that serves food from a particular country like Mexican, Chinese, or French – whatever's your favourite!
Instead of a dessert table, rent a caravan that sells homemade treats like cupcakes, brownies and macaroons.
We love the idea of a 50s themed trailer, serving up grilled cheese, burgers and milkshakes – complete with red and tiffany blue painted look!
If you're setting up your own caravan, paint it to match the colours of your wedding theme.
Original images and their credits available on Pinterest