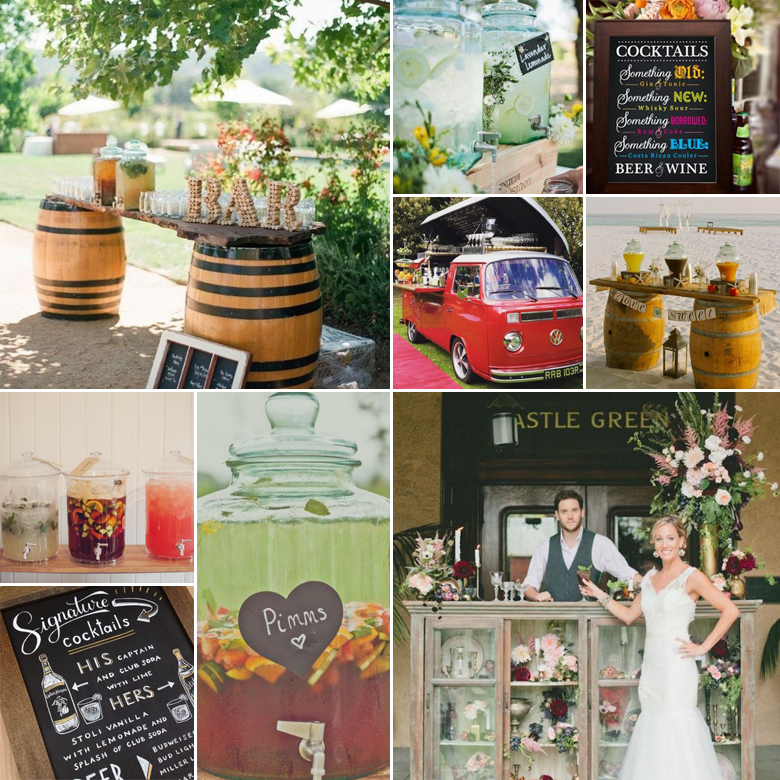 Every wedding needs a cocktail bar! While that is not entirely true, it does add an element of fun to the celebration and even the butchest man won't turn down a well-made mojito. Move away from the traditional bar set up with a bar that's as fun as the drinks it dispenses:
Convert an old vintage dresser into a bar, to really capture that old world charm.
Create a self-service bar with the cocktails displayed in stunning glass decanters.
Serve drinks on the back of an old truck or retro bakkie!
Make a bar counter using two stunning wine barrels and a slab of wood on top.
Pair each cocktail with a gourmet canapé, and have different taster tables with cocktails and matching snacks.
Remember: Men don't drink pink drinks! Instead of only cocktails, make sure you've got some craft beer options as well.
Hire a cocktail expert and set up a bar where guests can mix their own speciality drinks or order premade ones.
Instead of bubbly, toast your new marriage with a cocktail of your choice.
Get creative with cocktail glasses and serve the drinks in mason jars, mugs, paper cups or beer mugs.
Original images and their credits available on Pinterest