Fun with a Wedding Fondue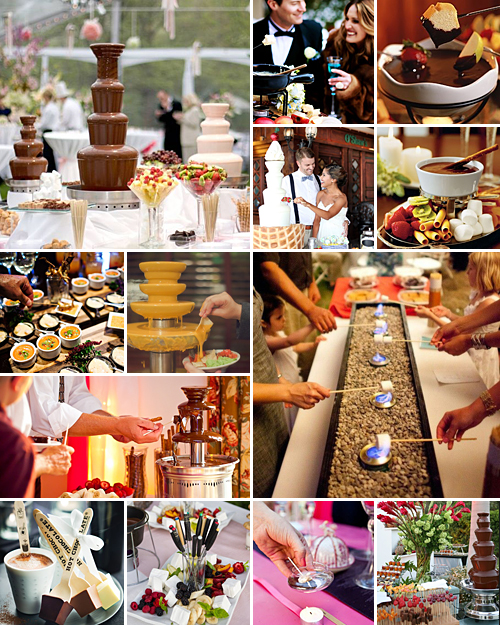 Fondues at your wedding will add a unique twist to your wedding day and there are sure to be some laughs in between.
If you love the idea of a fondue, but don't feel it will work for your wedding, remember you can try it for any type of party including your hen party, engagement party, rehearsal dinner, anniversary party or even for an intimate evening with you and your hubby-to-be. The sky is almost the limit when it comes to having a fondue at your event. You can try different foods that will help fill up your guests and also give a great variety or selection to be enjoyed.
Types of Fondue:
Cheese Fondue
Chocolate fondue (very often rented out as a tiered fondue structure)
Oil or broth (more used for meat) where the meat is cooked and then a variety of sauces are available for flavouring.
Foods that work well with a fondue include:
Assorted Breads
Bread Sticks
Chicken or Steak Cubes
Meatballs
Raw vegetables
Cocktail Weiners
Potatoes
Fruits such as strawberries, banana or pineapple, marshmellows, boudoir biscuits, coconut,  nougat, Turkish delight, fudge
A few extra tips and ideas for a Fondue wedding:
If your wedding is taking place deep in the winter months, a warm cheese fondue is a great option to warm your guests up as your starter or hors-d'oeuvre.
Opt for a cheese hors-d'oeuvre, a meat and vegetable main and end off with a chocolate fondue.
If you use a caterer to setup the fondues, make sure to consider how big or small eaters are attending. If you plan on inviting a rugby team, make sure to stock up on your food items.
Make sure you use the correct fondue pot e.g. cheese and chocolate fondues will typically make use of a ceramic pot whereas for fondues with oil, wine, broth or beer that are typically used for meat and vegetable items use metal pots.
For fun, put together an instruction pamphlet on each guest table explaining how to have fun with their table's fondue.
Resources