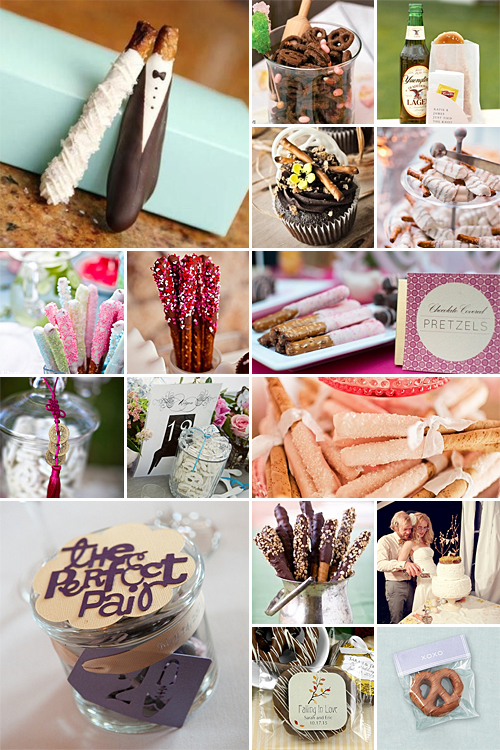 What better way to tie the knot than with a knotted German pastry? Pretzels are a favourite across the world and their versatile nature makes them the ideal addition to the wedding menu. They're fun, delicious and are best enjoyed straight out of the oven, making them the perfect hearty winter indulgence.
When talking "pretzels", we're thinking both the crispy variety and the big soft pastry pretzel, so feel free to swap them up and play around:
Serve dipped donuts and pretzels for dessert! Alternatively set up a chocolate fountain with a variety of sprinkles where guests can have a "dip 'n taste" themselves.
Ask the local baker to make pretzels in the shape of giant numbers and prop these up on skewer sticks to use as table numbers. If you want to take it a step further, give each guest a mini number-shaped pretzel so they know where they sit.
Place a pretzel over each of the straws in the welcome drinks or serve an after-dinner mini milkshake + pretzel combo.
Serve salted pretzels as canapés or starters, along with a variety of dips, cheeses and pesto's. On the other hand, why not serve gourmet pretzels with all kinds of delicious and indulgent fillings? Salmon and cream cheese, pear and brie or beet and goats cheese, just to give you an idea.
Wear a pretzel inspired hairstyle or twisted bridal belt – in other words, any variation of the traditional braid.
If you're having an outdoor wedding, set up a traditional German pretzel cart where guests can bite into some street café deliciousness while a street performer entertains them.
Play around with fun pretzel shapes and build a stack for your wedding cake.
Hanging edible guest favours table decorations are a major trend this season so thread pretzels onto fishing line and suspend them from the chandeliers over the guest tables. Once guests depart, it's as simple as snipping the line and packing the pretzels in a pretty little gift box.
For more wedding pretzel ideas, the original photos above and their credits, make sure to check out our Wedding Pretzels Pinterest Board!