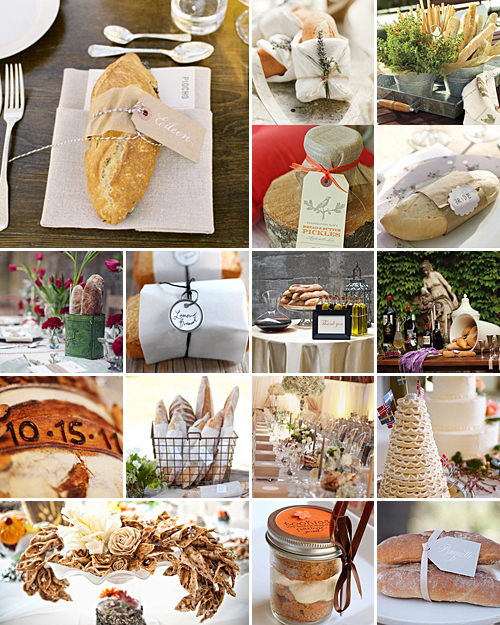 Over the centuries, it's always been said that there's no better way to befriend someone than to break bread with them – so why not apply this same principle to your wedding? It's safe to say that bread is loved by young and old – hence, if you're nervous that guests might not love the idea of an aubergine starter or smoked salmon main, bread is the perfect way to ensure that tummies are full and happy.
While you might not deem this humble food type worthy enough to be served at your wedding, bread can be quite classy when served with homemade preserves, an array of cheeses and aromatic pesto's. Also put some research into breads from different origins and countries, and consider some of the following ideas to make it more interesting than usual half a loaf of white:
Set up a sophisticated and interactive bread table where guests can help themselves to a variety of interesting and foreign breads, crackers and toppings. This is ideal for the cocktail party or pre-drinks.
Opt for a bread wedding cake! Ask your local baker to bake a variety of breads for the "tiers" of the cake and serve as a late-night snack.
If you're planning an organic, rustic, farmy or home style wedding, place baskets or pallets of bread on each of the guest table – edible centre pieces!
Use breadcrumbs as confetti – not only is it light enough to float through the air, the birdies will sing your praises.
Have your names and wedding date carved into the bread tough before baking. Alternatively bake individual rolls with each guest's name on top – the ideal place setting.
For a winter wedding, serve freshly baked bread with hearty soup as starter.
Once all is said and done, send each guest off with a mini farm-style loaf wrapped in wax- or newspaper, with a thank you note on top.
Ask the caterer to bake at least one loaf of bread in the venue kitchen to fill the air with the aroma of freshly baked bread.
If you're getting married in a church, consider having communion with your new spouse and guests right before/after you say "I do".
Instead of bread, serve proudly South African "roosterkoeke", "potbrood" and "stokbrood" or even better – gather your guests around the fire pit and let them make it themselves!
For more Wedding Bread ideas, the original photos above and their credits, make sure to check out our Wedding Bread Ideas Pinterest Board!