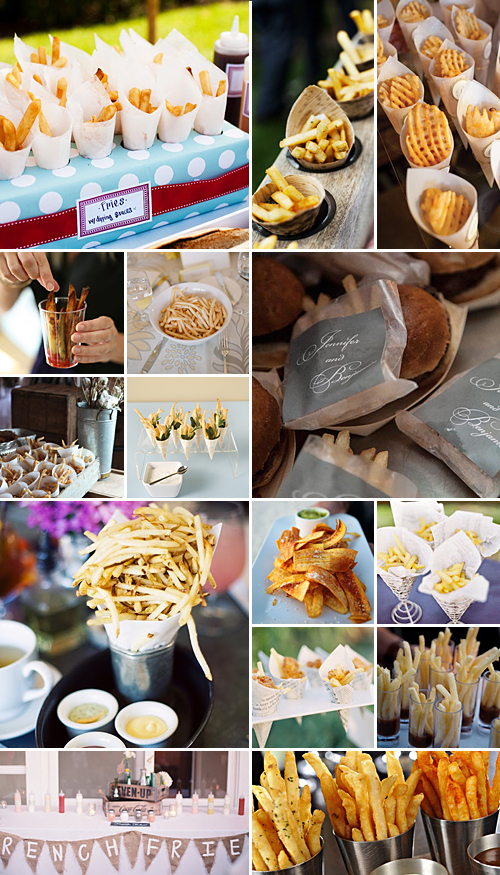 Here's another good ol' favourite that's made an impressive comeback to the wedding buffet tables. French fries are a universal favourite and ideal for soothing grumbling bellies after a long ceremony. Here are a couple of ways to serve them in a more creative fashion than the local drive-through:
With an interesting twist:
Serve baked wedges instead of fries, or consider mixing potato with sweet potato chips.
Instead of straight-cut American style fries, serve flat round chips, crinkle cut or or crunchy potato shavings, or go all out with potato twirls on a stick.
Add fresh basil leaves or dust the fries with dried herbs for a more organic take on these contemporary fried bites.
Serve 'em up with mini milkshakes! If you've never dipped a fry in a milkshake, you simply haven't lived.
For a real South African wedding, serve mini portions of fish and chips on wooden boards, or serve them with mini hamburgers for a more authentic American style wedding.
In unique containers:
Mini metal cans or branded cans, e.g. Koo, All Gold, Lucky Star, etc.
Paper cones – newspaper, baking paper and patterned wax lined paper.
Personalised little paper cups or McDonalds-shaped fries containers.
Tall shot glasses or martini glasses with condiments resting in the bottom.
Massive buckets of fries where guests can nibble and fill up smaller containers.
Original photos and credits available on Pinterest.