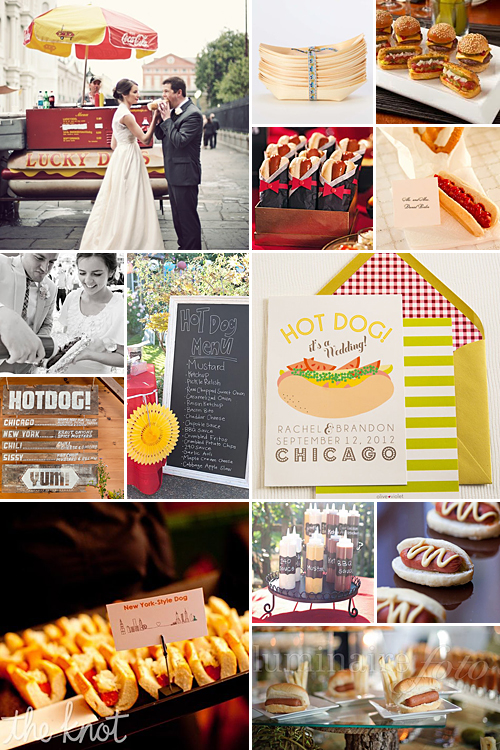 A hot idea? Yes, we definitely think so! As a classic favourite, the hot dog is the perfect embodiment of the current trend of "revamping that which we know and love" – and it's light on the pocket! Perhaps you grabbed a hot dog on your first date or maybe hubby just really wants "good grub" at the wedding – either way, hot dogs put a fun and playful twist on any occasion.
Note: Bear in mind that not all guests necessarily eat meat or sausage for that matter, so have veggie rolls or vegetable skewers on standby. But first, a couple of mouth-watering hot dog ideas:
Rent a vintage hot dog cart or stand and serve mini hot dogs and chips during canapés.
Set up a gourmet hot dog station where guests can pick and choose from a variety of interesting toppings such as caramalised onion, sweet chilli cream cheese and bacon bits.
We love the idea of serving a late night snack to fill the grumbling bellies of your party guests, and hot dogs fit the bill just perfectly, don't you think?
If you're planning a more intricate menu, consider putting hot dogs on the kiddie menu – they'll love you for it!
Serve hot dogs that are inspired by different countries or cultures – for instance German hot dogs with sauerkraut, South African "boerie rolls" with chutney or straight up New York style hot dogs with mustard and ketchup.
For your wedding photo session, recreate a cliché movie moment where girl meets boy at a hot dog cart or a share a hot dog on a park bench.
Original images and their credits available on Pinterest.