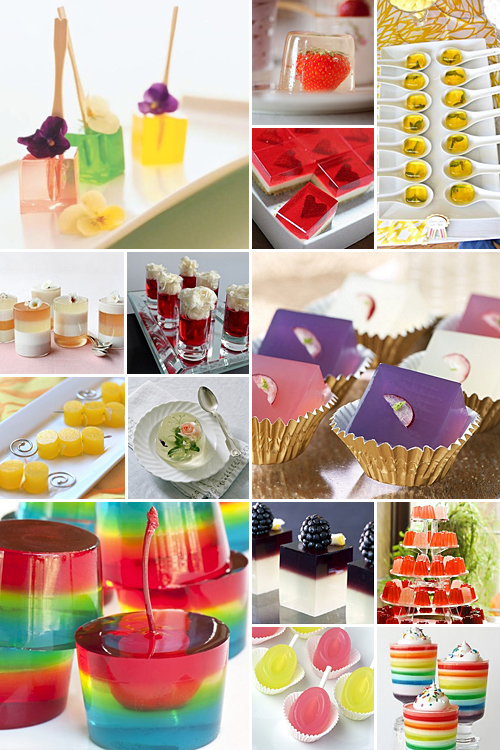 For better or for worse, and through sickness and in health, jelly has always been there to brighten your day. So when it comes to the biggest day of your life, it's only fitting that good ol' jelly take part in the festivities:
Serve a variety of brightly coloured jello shots! Use different alcohols, flavoured jellies and interesting containers to make it even more fun.
Decorate the rims of the cocktail glasses with jelly powder or dust the wedding cake or cupcakes with the dry sweet stuff.
Serve traditional jelly and custard or rainbow jellies – either for the children or as part of the dessert table.
Instead of fortune cookies, serve fortune jellies! Simply pop a surprise into the liquid mixture so that the jelly can set around it. For instance, a strawberry, an edible flower or a little personal message – it will blow the minds of your guests!
Alternatively make individual jellies and place each guest's place card into the liquid before it sets – how's that for unusual place settings?
Complement the jelly theme with jelly sweets like wine gums, jelly beans and jelly tots, or serve jelly-centred donuts for dessert.
And don't forget jelly powder straws! These childhood treats can either be used as candy table filler or "flag posts" for guests' name cards. Alternatively, fill tiny bags or bottles with jelly powder which guests can tuck into, almost like sherbet.
Consider "jelly shoes" for the bridesmaids – semi sheer plastic shoes that resemble mounds of wobbly jelly.
In American slang, "jelly" actually means "jam" so fill small jars with homemade jam and give to guests as wedding favours.
Decorate the tables with a variety of jelly candles in all shapes and sizes – available at most gift shops and candle factory outlets.
Chat to your wedding caterers for more ways to make use or implement jelly into your wedding day!
Original images and their credits available on Pinterest.