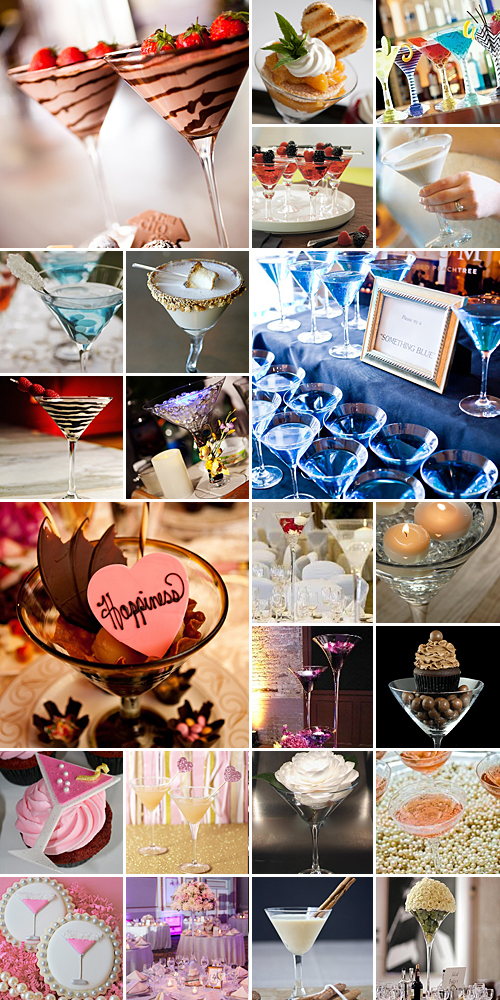 Whether you've rented out the ballroom at the Royal Hotel or planning an LA style wedding, martinis are a definite menu-must. From the popular apple martini and pink martini to the more indulgent chocolate martini – with so many variations on the basic martini, it's really all about finding the triangular drink that sums up your personalities to the T (or shall we say the Y).
While the drink itself pleases the palate, the real charm lies in the sleek shape of the glass – guaranteed to add a dash of pizzazz to any occasion. Here are a couple of ideas for shaking and stirring things up on your big day:
Use martini glasses as part of your décor, for instance as candle holders (for floating candles), mini flower vases and so forth.
Martini glasses are incredibly stackable, so use them to serve decadent mousses and layered cakes all stacked up in the shape of a wedding cake.
Serve a variety of flavoured martinis as your welcome drinks, or make things even more interesting with coloured drinks served up in martini glasses.
These snazzy glasses aren't just for drinks and sweet things – consider serving individual portions of French fries or vegetables and dip during canapés.
Instead of toasting your matrimony with a glass of bubbly, raise a martini instead and feed the olive to your new spouse.
Fill large martini glasses with mints and bites, and place it on the guest tables for snacking purposes.
Surprise hubby by presenting his wedding ring to him in a martini glass, putting an unusual twist on the classic engagement ring in the champagne glass scenario.
Be sure to inquire at local hiring services about oversized martini glasses as these might be even more ideal for décor and snacking purposes than the small one.
For more Wedding Martini Glasses ideas, the original photos above and their credits, make sure to check out our Martini and Weddings Pinterest Board!