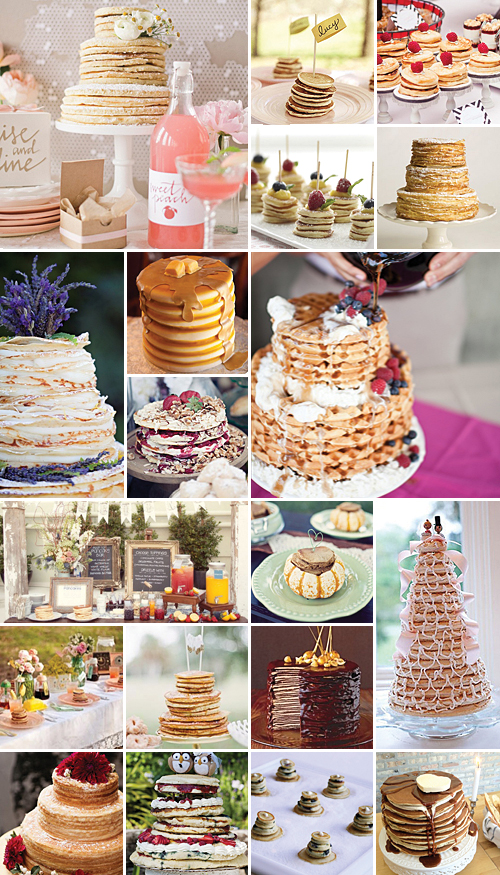 Who doesn't love a warm fluffy pancake, right? These flat doughy rounds are simply perfect for a morning wedding or bridal part brunch. However, because they're deliciously filling and not all that expensive to make, pancakes can (and really should) be incorporated into any wedding to ensure that no one goes hungry. While summertime calls for pancakes filled with ice cream, winter is the time to bring out the cinnamon sugar, savoury mince and spinach and feta.
Interactive food stations are a big trend at the moment, so consider setting up a pancake station where guests can pick and choose from a range of indulgent pancake toppings and fillings. Make sure there are both sweet and savoury options so no taste bud is left unsatisfied. As an added treat, bring your chef out of hiding so that he can wow guests with his amazing pancake flipping skills.
Other flat and fabulous ideas include:
Instead of a traditional wedding cake, build a mountainous stack of scrumptious pancakes. Garnish with chocolate sauce, maple syrup, berries or cream.
Thread mini pancakes (flap jacks) onto skewer sticks and attach the place card to the top of the stick – instant and delectable place settings!
Pancakes make a lovely starter, so consider serving them either plated or at a station. Alternatively serve mini pancake canapés, topped with goodies like salmon and cream cheese.
Mix up a batch of your own pancake premix and make up little jars with recipes which guests can take home as favours.
Serve unusually shaped pancakes such as hearts, flowers, stars, animal shapes and other fun palate pleasers.
Make sure your photographer gets pictures of you and him sharing a pancake or, better yet, baking pancakes together for your engagement shoot.
For more Wedding Pancake Ideas, the original photos above and their credits, make sure to check out our Pancakes Pinterest Board!